UPDATE 23 OCTOBER 2013 3:08 PM CST USA
Via RottenTomatoes:
NCM Fathom Events and BBC AMERICA are thrilled to celebrate 50 years of the world's longest-running Sci-Fi series, Doctor Who, with an explosive RealD 3D presentation of the Doctor Who 50th Anniversary Special: The Day of the Doctor. This extraordinary one-night event will take place on Monday, November 25 at 7:30pm (local time) in cinemas nationwide and includes bonus content exclusive to movie theaters!
Thanks Talkbacker Carl LaFong!
================= ORIGINAL ARTICLE FOLLOWS ====================
A few days ago we learned that tickets for 3D theatrical presentations of The Day of the Doctor - DOCTOR WHO's plus sized 50th Anniversary episode - would go on-sale Friday morning at 9am UK time for overseas venues (details HERE). At that time, there was no clear indication of when US tickets would go on-sale.
A quick search of Fandango reveals a theater in my area which is apparently screening the episode - I cross-checked this against zip codes in other states and found similar results. An attempt to actually purchase tickets resulted in an error message potentially revealing all US WHOvians need to know regrading when they can nab tickets to DOCTOR WHO screenings.
One interesting anomaly here is that all dates listed are for the 25th of November, which…if correct…would not align with the already announced global simulcast of the story on November 23. My personal belief is that this date is either incorrect on the site, or that additional screenings will transpire after the simulcast on the 23rd of November. Either way, sounds like tickets go out…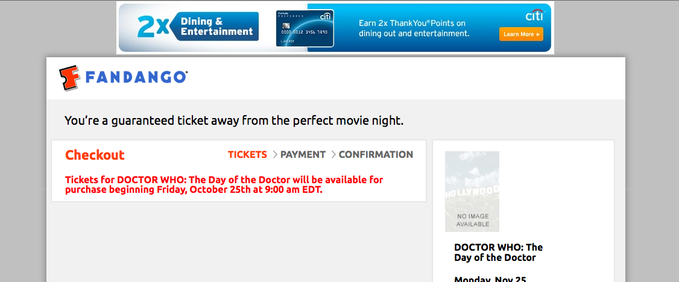 -------------------
Glen Oliver
"Merrick"
- e-mail
- Twitter
- Google +