Ahoy, squirts! Quint here with today's Behind the Scenes Pics!
The Skull is one of the more underrated gems from the heyday of British horror. I love Hammer, but I find the more Amicus productions I see the more I lean towards liking them more. Blasphemy, I know, but movies like Asylum, The Beast Must Die, Tales From The Crypt and The Skull are just so damn fun that they keep pushing me more and more towards preferring Amicus over Hammer.
Freddie Francis' The Skull is such a fun, weird, awesome movie starring Peter Cushing as a collector of the macabre who ends up with a human skull said to be that of the Marquis de Sade. The skull isn't just creepy, but also carries with it bad luck and possibly a tormenting spirit.
Two things stick out about this movie in my mind. One, Cushing and Christopher Lee are once again paired, but while they play competing weird shit collectors they are also good friends. Lee is not playing a bad guy in this one and it's fascinating to see that very famous chemistry played out in a completely different way. Secondly, there's some really inventive shots that use the skull itself to frame the scene.
Those very shots are documented in today's two pictures from the filming of The Skull. Check out the sweet-ass rig they came up with! Thanks to William Forsche for the images. Enjoy!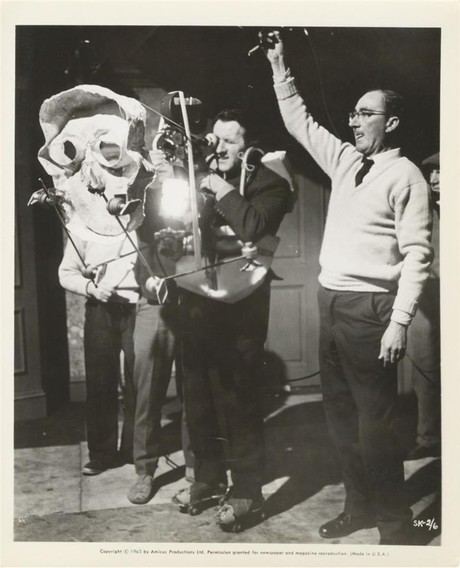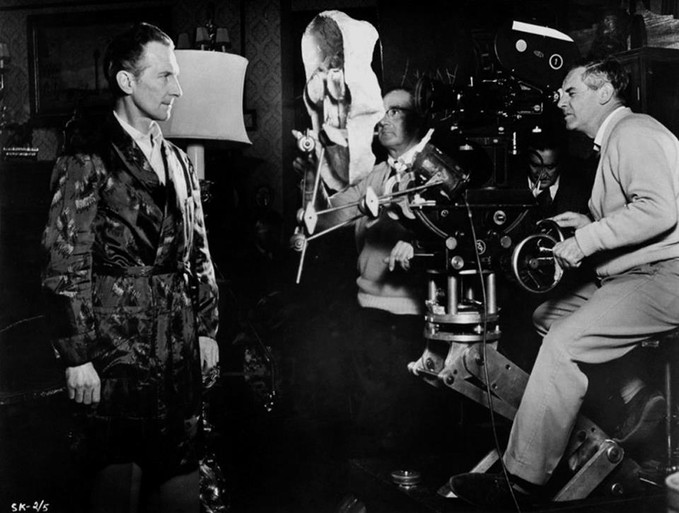 If you have a behind the scenes shot you'd like to submit to this column, you can email me at quint@aintitcool.com.
Tomorrow's pic features another horror icon starring in another Amicus production.
-Quint
quint@aintitcool.com
Follow Me On Twitter
I've got a lot of maintenance work to do on the previous BTS articles, but you can visit two pages worth of images (beware of some broken links thanks to the last server shift): Click here for Page One and Click here for Page Two!