Papa Vinyard here, now here's a little somethin' for ya...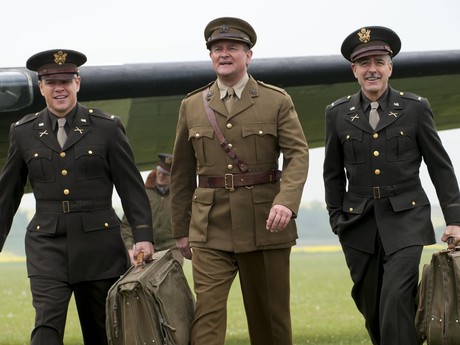 The L.A. Times has broke the news that George Clooney's ensemble heist film, THE MONUMENTS MEN, won't be finished in time for its scheduled release on December 18th, and will be pushed to next year. While the move is being attributed to general post-production difficulties, Clooney specifically blames the visual effects. He's quoted as such:
"If any of the effects looked cheesy. The whole movie would look cheesy. We simply don't have enough people to work enough hours to finish it…I looked at Grant (Heslov, his co-writer/producing partner) and said, 'We're dying,'…This is a bigger film than we usually do. It was a mad rush to do it from the very beginning…It wasn't going to be finished, and I wouldn't want to have my name on it. You don't want it to look like a film that was all done in the computer…The good news for us is that we're really happy to buy ourselves a month. I can't tell you how relieved we are."
The film will now be released sometime in February, where the other biggest releases will be ROBOCOP, THE LEGO MOVIE, and POMPEII. If I were in charge, I'd probably put the film out on Feb. 21, against POMPEII; while both are period pics, I'd imagine that their audiences would be mutually exclusive, potentially allowing both films to do well. I don't think this move is going to cost the film any Oscars it might've won/been nominated for, and maybe Clooney's idea that moving his film out of the crowded holiday season will help its grosses is a sound one. This kind of breezy, star-studded pic is commonplace during the tentpole seasons, but less so in the mid-to-late winter months, and I could see families and older couples making the film the reason for their first 2014 venture to the theater.
THE MONUMENTS MEN will now do their art thievery sometime in February 2014.
-Vincent Zahedi
"Papa Vinyard"
vincentzahedi@gmail.com
Follow Me On Twitter