Papa Vinyard here, now here's a little somethin' for ya...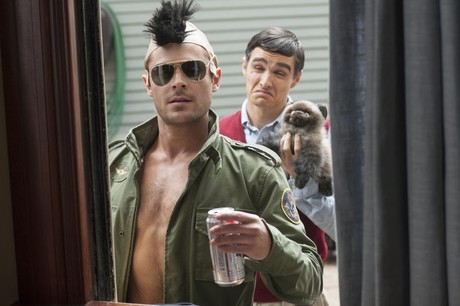 Following the red-band trailer we got last month, we now get this green-band look at the upcoming Seth Rogen vs. frat boys comedy, NEIGHBORS. Many of the gags are reused and expanded from the first trailer (sans explicit content, of course), but there are some bits we're seeing for the first time (like, interestingly enough, Rogen and Rose Byrne Eiffel Towering a hedge). I don't think anyone believes that this is going to be next year's THIS IS THE END or anything, but it looks like another in Nick Stoller's line of serviceable, "funny enough" gross-out comedies (FORGETTING SARAH MARSHALL, GET HIM TO THE GREEK).
Out of curiosity, what do you think looks funnier? This, or the more rom-commy Zac Efron flick THAT AWKWARD MOMENT? I'm kind of on the fence, but I'll probably see them both eventually.
NEIGHBORS get loud and disorderly on May 9th, 2014.
-Vincent Zahedi
"Papa Vinyard"
vincentzahedi@gmail.com
Follow Me On Twitter