Papa Vinyard here, now here's a little somethin' for ya...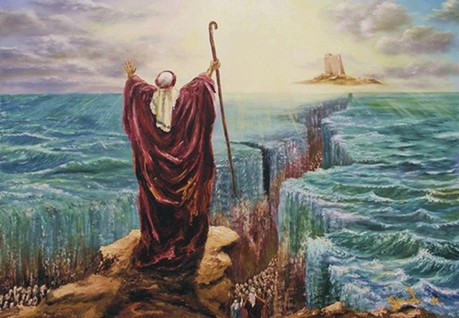 The Film Stage (via Just Jared) has given us our first looks at Christian Bale and Joel Edgerton in character for Ridley Scott's EXODUS (you have to click the links...that above pic is just an animated rendering of Moses, not a screenshot from the film, ya dummy). Bale's Moses is rocking an arrow and quiver, which, in those clothes, make him look not that dissimilar from Costner in ROBIN HOOD: PRINCE OF THIEVES. Edgerton as Ramses, on the other hand, well, that's a different story. In the one pic we get of him, he's looking more the part than I could've imagined. With the golden bracelets, the dark-tinged skin, the white makeup down his face (maybe sun-tan lotion in between takes?), and (presumably) bald head under that sash, Edgerton's really Yul Brynner-ing it up, by the looks of it. Can't wait to see him in action.
The Film Stage also put up a bunch of pictures of the sets that were built for the massive production, and they look appropriately Ancient Egyptian and epic. I mean they got whole towns built here, not to mention massive columns and statues, all intricately adorned with design flourishes and etchings. Totally up to par with Scott's untarnished reputation for delivering scale and spectacle as well as anyone in the biz.
I have to say, I was skeptical of another large-scale, star-studded Biblical piece coming this soon off the heels of Aronofsky's NOAH, but it's looking like this film will bring the big, the bad, and (in Edgerton's case) the ugly in ample doses.
EXODUS begins on December 12th, 2014.
-Vincent Zahedi
"Papa Vinyard"
vincentzahedi@gmail.com
Follow Me On Twitter