Papa Vinyard here, now here's a little somethin' for ya...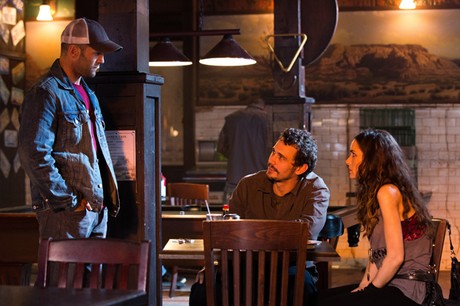 IGN has premiered the red-band trailer for the Sylvester Stallone-written Jason Statham-James Franco face-off, HOMEFRONT, and it really uses that restricted label to full effect. This trailer is chock-full of bad language, drug use, and (digitally rendered) blood splattering. Usually, that sort of front-loaded carnage would hint that the finished product doesn't bring that much more to the table, but this film is lookin' fun. The "they took my daughter" stuff looks like same-old, same-old, but the action and the cast make it seem like this could be a really enjoyable, if somewhat traditional fall-time action flick.
The main pull of this movie, besides the predictably (and gloriously) operatic machinations that come with Sly's scripts, is Franco's over-the-top turn as the meth kingpin "Gator Bodine" (isn't the way he says that name great?). The dude looks awesome, and not in the funny-intense way his Alien in SPRING BREAKERS was, but rather in a genuine teeth-gnashing villain role. I like that the trailer focuses almost as much on him as it does Statham, showing how freaked out he is by the presence of an ass-kicking undercover agent in his town. As for Statham, his role looks like his generic stoic hero character, but up against Franco, and with Stallone scripting and Gary Fleder directing, it should land on the more charismatic side of his spectrum of performances (although he's really failing to live up to the potential he exhibited in those Guy Ritchie films and LONDON, IMO).
And is it just me, or is Winona Ryder still like unthinkably pretty? I mean, not to discredit her talents as an actress, but she makes it real easy to remember my die-hard childhood crush on her. Whatever she's doin', it's workin'. Alas, I digress…
HOMEFRONT cooks in your town on November 27th.
-Vincent Zahedi
"Papa Vinyard"
vincentzahedi@gmail.com
Follow Me On Twitter