Papa Vinyard here, now here's a little somethin' for ya...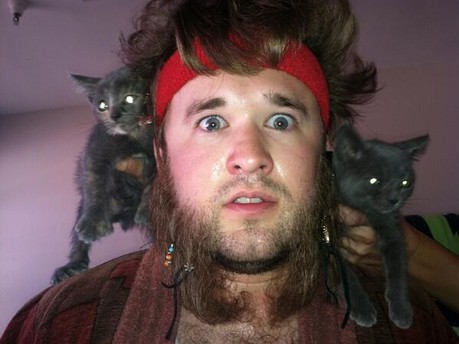 After making a huge spalsh (and almost pulling down an Academy Award) with THE SIXTH SENSE, and appearing in movies like A.I. ARITIFICIAL INTELLIGENCE and SECONDHAND LIONS, Haley Joel Osment spent most of the last decade offscreen. Aside from voice-over work (he participated in 8 of the KINGDOM HEARTS games as the protagonist, Sora), the occasional indie flick, and that stunt-casting as "New Mac" on IT'S ALWAYS SUNNY IN PHILADELPHIA, it's been a while since we've seen the talented former child star in cinemas. Well, Max Landis and Kevin Smith are gonna remedy that for us. Deadline has announced that Osment is set to co-star in Kevin Smith's TUSK and Max Landis' indie comedy, ME HIM HER. In TUSK, he'll be featured as Justin Long's buddy and podcast partner who looks for him when he's abducted in the Canadian wilderness for, as he's sure to eventually find out, the purpose of sewing him into walrus blubber. His role in ME HIM HER is as-of-yet unannounced, as is the film's plot (other than the occasional vague Max Landis Tweet). We do know that it also features Alia Shawkat, Geena Davis, and Scott friggin' Bakula, so...I guess I'm seeing it no matter what the fuck it's about.
It's cool to know that he'll be working with Smith in what seems to be a major role, but I love how Deadline presents the ME HIM HER news as "exclusive" when Landis himself Tweeted about his presence, oh, about two whole months ago (which is where the above picture comes from). We know just as much about his actual function in the film now as we did then, but I guess Deadline got the TUSK news and decided to slip that second bit in there just to buttress the story. But nothing on Twitter is exclusive, guys. Just sayin'
What's also interesting is they attribute Osment's break from acting to his studies at NYU. Well, I was a freshman with Haley at Tisch School of the Arts, and that was in…2006. Not exactly last week. Not to say he didn't pursue his studies elsewhere, or kept himself busy in the interim, but I think it's a stretch to say that his undergrad schooling alone kept him away from the scene for 7 years. Other stuff probably contributed to that absence too. Again, just sayin'.
Nonetheless, like everyone else, I remember being blown away by his SIXTH SENSE and A.I. performances, so I'm glad to see him getting some medium-to-high-profile work as a full-grown adult. But part of me feels that no matter what he do, he will never quite top this...
-Vincent Zahedi
"Papa Vinyard"
vincentzahedi@gmail.com
Follow Me On Twitter