Hey Yo, Draven here.
A new poster for Greg McLean's sequel WOLF CREEK 2 has hit the internet. It doesn't give a whole lot away but it does have hitchhikers in the Australian Outback which is the basic setup for the film: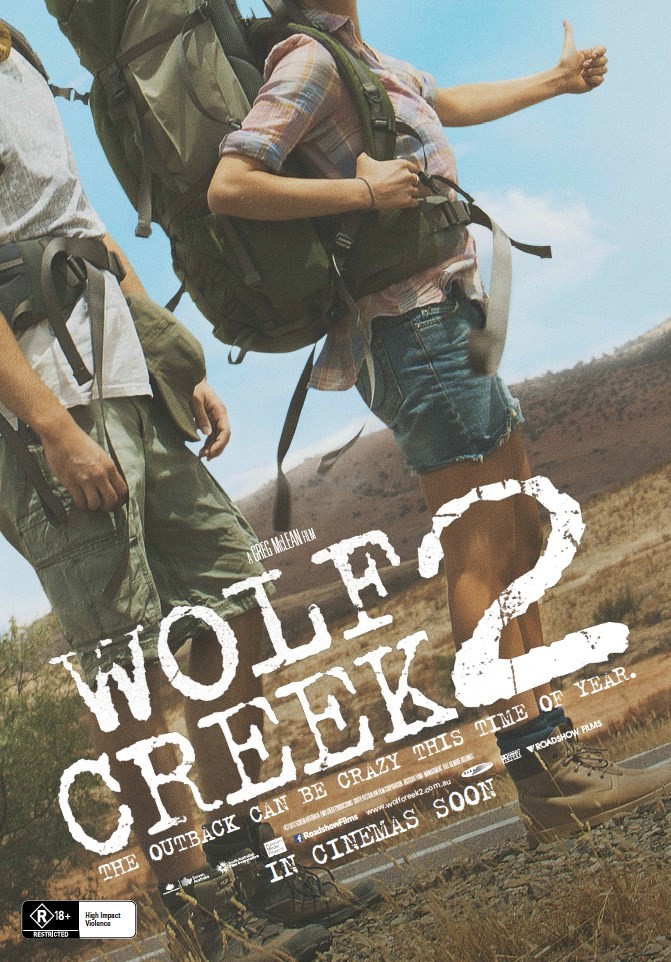 I really enjoyed the first one as it was a brutal, relentless horror flick and the reviews for this second one have been even better, coming out of its premiere in Venice last month. The first trailer for the film will be released this Monday. It is set for release in Australia in February and has yet to be picked up for distribution in the U.S. but I imagine it will play Sundance like the original did and get picked up then.
"Lured by the promise of an Australian holiday, backpackers Rutger, Katarina, and Paul visit the notorious Wolf Creek Crater. Their dream Outback adventure soon becomes a horrific reality when they encounter the site's most infamous local, the last man any traveler to the region ever wants to meet; Mick Taylor (John Jarratt). As the backpackers flee, Mick pursues them on an epic white knuckled rampage across hostile wasteland. Only one will remain to be dragged back to his lair to witness the true magnitude of his monstrosity. And if the last man standing is to have any hope of surviving where no one else has survived before, he'll have to use every ounce of cunning to outwit the man behind the monster and become every bit as ruthless as the monster inside the man."
Follow me on Twitter here!