Ahoy, squirts! Quint here with today's Behind the Scenes Pic!
How in the hell does Lake Placid only have a 5.5 rating on IMDB? Do people really not understand the camp and comedy is kind of what makes that movie work? I mean it's a movie about a giant crocodile that lives in a lake and was raised by Betty White!
Bridget Fonda, Bill Pullman, Oliver Platt and Brendan Gleeson are all so damn funny in the flick and they even found a part for Natty Gann! Add on to that some really awesome practical work from Stan Winston (and sadly some less than stellar late '90s CGI), a perfect darkly comic tone and some very witty writing and you get one of my personal favorite horror comedies.
In celebration of this underappreciated gem, today's picture we have the late, great Stan Winston checking out the maquette for the Lake Placid croc.
Thanks to the incredibly talented sculptor Nick Marra and the good folks at the Stan Winston School for the image. Enjoy!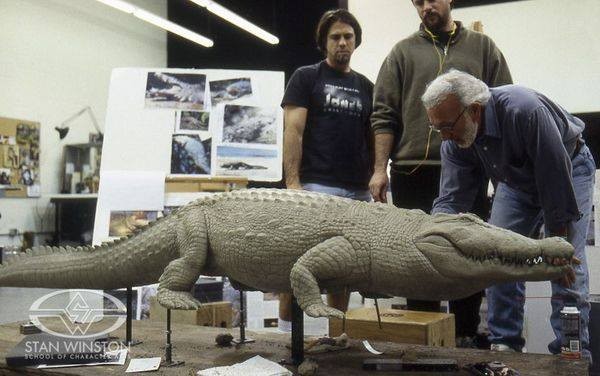 If you have a behind the scenes shot you'd like to submit to this column, you can email me at quint@aintitcool.com.
Tomorrow's behind the scenes pic is zombie related.
-Quint
quint@aintitcool.com
Follow Me On Twitter
I've got a lot of maintenance work to do on the previous BTS articles, but you can visit two pages worth of images (beware of some broken links thanks to the last server shift): Click here for Page One and Click here for Page Two!