Papa Vinyard here, now here's a little somethin' for ya...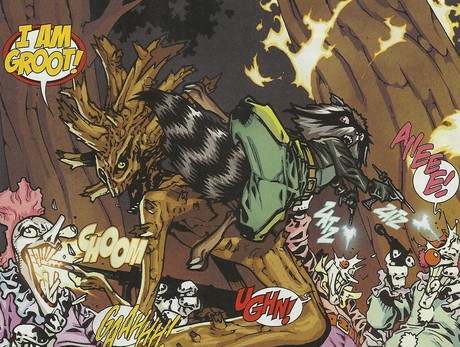 Vin Diesel posted a video on his ever-popular Facebook account showing him doing some tongue-in-cheek prep for his role as the walking, talking 7-foot-tall+ tree Groot in James Gunn's GUARDIANS OF THE GALAXY. In it, we see him stumbling about on his stilts in a "Toretto's Garage" t-shirt, before knocking on the trailer of Djimon Hounsou, one of his "GUARDIANS OF THE GALAXY brothers" (who is also in FAST & FURIOUS 7). It's around this point, toward the end of the video, that he (seemingly spontaneously) reveals that he only will have one line in the upcoming comic-book adaptation. His exact quote is:
My father taught me there are no small roles, only small actors. I only have one line in the movie, but that doesn't mean anything. I'm still going to make it the best possible thing I can, even if that means taking Andy Serkis to a whole 'nother level, which is what we're gonna do with our motion-capture."
I guess we can infer that that one line is Groot's signature phrase, "I AM GROOT!", although we should expect to hear it more than once, and in a bunch of different contexts. As a layman to the GUARDIANS saga, Groot's limited vernacular is news to me, but it seems that if Vin's willing to put this much work into the mo-cap work (alongside his proven skills as a voice-over actor…cue me trying not to tear-up while hearing a deep-voiced "SUPERMAN!" in my head), then Marvel should be getting their money's worth out of the guy even before the publicity push really kicks into high gear. I mean, it certainly seems like his heart's in it, and I'm sure this kind of enthusiasm is doing nothing to hurt his relationship with Marvel which, many of us hope, is only just beginning...
GUARDIANS OF THE GALAXY will throw down on August 1st, 2014.
-Vincent Zahedi
"Papa Vinyard"
vincentzahedi@gmail.com
Follow Me On Twitter