Papa Vinyard here, now here's a little somethin' for ya...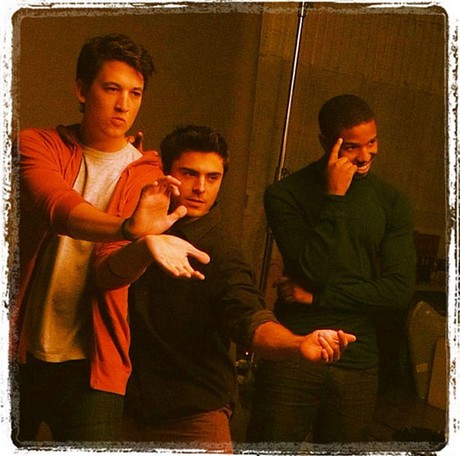 Above photo from Zac Efron's WhoSay account.
Yahoo has premiered the trailer for the upcoming rom-com/bro-mance, THAT AWKWARD MOMENT (a meme-friendly alteration from the more specfic ARE WE OFFICIALLY DATING?). Aside from the novelty of seeing two of the frontrunners for Josh Trank's FANTASTIC FOUR alongside a nudity-friendly Zac Efron, the trailer actually does have a few moments that made me laugh. Maybe it was my dad's corny jokes growing up, but I can't help chuckling like an idiot at that "cocktail" line. Teller looks like he's in fine form as the requisite wiseacre, and I like Jordan as the recuperating, sensitive type (even if it sorta irks me that the girl we get a glimpse of him kissing happens to also be black…funny how it always works out that way for African-American characters, even when they have predominantly white friends). As for Efron, well, between this and NEIGHBORS, it's nice to see him loosening up a little and getting his comedy game-face on these days.
Writer/director Tom Gormican only has one prior credit to his name (as a co-producer on MOVIE 43), but this seems fairly entertaining for a January release. I'd expect if those actors attach themselves to FF (or, in Efron's case, something like STAR WARS), this little flick could get some serious attention in the usually-desolate first month of the year.
Either way, I wouldn't be adverse to seeing this at some point. I laughed. Sue me.
THAT AWKWARD MOMENT where the leading man potential of these three dudes gets publicly tested begins on January 31st.
-Vincent Zahedi
"Papa Vinyard"
vincentzahedi@gmail.com
Follow Me On Twitter