Papa Vinyard here, now here's a little somethin' for ya...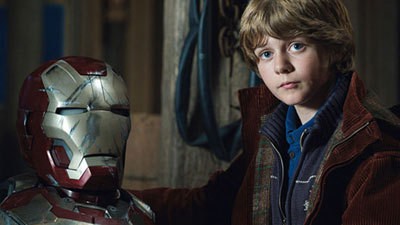 Deadline broke the news that JURASSIC WORLD has landed its first confirmed lead actor in 12-year old Ty Simpkins. There are a couple of other rumored names in the mix like DRINKING BUDDIES' Jake Johnson and Bryce Dallas Howard, but Simpkins is the only one that's been officially confirmed by the studio. No one knows what the little scamp's role is in Colin Trevorrow's upcoming sequel/reboot, but one can imagine it's in the tradition of Trevor Morgan, Vanessa Lee Chester, and, of course, Joseph Mazzello's resourceful young'ns in the last three installments. Here's hoping he doesn't, you know, vault-kick any raptors in the face or anything.
Simpkins most prolific role to date (alongside his crucial presence in the two INSIDIOUS movies), as Tony "The Mechanic"'s underage accomplice in IRON MAN 3, was a "love-it-or-hate-it" element in that massively successful film. Some people said that his character was a corny, pandering cliche glaring out from the middle section of the film, while others appreciated how Shane Black, Downey, and Simpkins himself were able to elevate the character beyond a mere plot contrivance. I subscribe to the latter notion, so I'm holding out hope for a knowing, cheese-free performance from this kid when we finally see this film in a couple years.
JURASSIC WORLD takes a chomp out of your ass on June 12th, 2015.
-Vincent Zahedi
"Papa Vinyard"
vincentzahedi@gmail.com
Follow Me On Twitter