Papa Vinyard here, now here's a little somethin' for ya...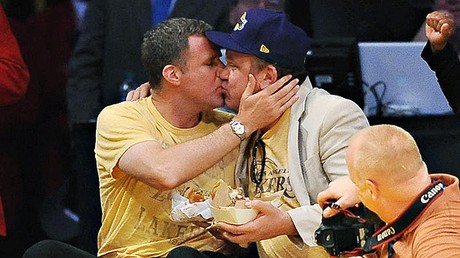 When John C. Reilly first joined Will Ferrell on TALLADEGA NIGHTS: THE BALLAD OF RICKY BOBBY, I doubt anyone knew that their partnership would define the next chapter of the P.T.A. favorite's career. But not only did that movie define him as a serious comic talent, one that would anchor his own vehicles like WALK HARD, THE PROMOTION, and CYRUS (not to mention the Steve Brule character, who got his own series with CHECK IT OUT! WITH DR. STEVE BRULE), but it established that the two together had a certain madcap chemistry that they carried over into STEP BROTHERS, TIM AND ERIC'S BILLION DOLLAR MOVIE, and, if rumors are true, ANCHORMAN 2: THE LEGEND CONTINUES. Now, according to The Wrap, the two have been linked to an upcoming comedy called DEVIL'S NIGHT, which, once again, pairs them off as best friends, this time in a Halloween-centric plot.
The two will play Leonard and Gabe, who, as kids (and presumably in or around Detroit), started the titular tradition of firing shit up on the night before All Hallows' Eve. Now that they're middle-aged men, they have to put the kibosh on the yearly festivities when the overly rowdy local kids threaten to burn their whole neighborhood down. Sounds a little like THE WATCH meets HALLOWEEN III: SEASON OF THE WITCH…or is that a reach?
YES MAN writers Jarrad Paul and Andrew Mogel wrote the current draft of the film, which I'd expect will get a once-over from Ferrell and maybe even Reilly (who had a screenplay credit on STEP BROTHERS). No word on who will direct, but I wouldn't be surprised if the boys brought in their buddy Adam McKay just to cover their bases. Why ruin a good thing?
I'd watch these two read nursery rhymes on a blank set, so just his little bit that we know so far has gotten my inner T-Bird fired up like crazy. STEP BROTHERS remains my favorite of either star's comedy output, and I wasn't expecting great things from it, so I like the idea of them trying to top themselves again. Let's just hope this is more like THE ODD COUPLE or THE FRONT PAGE than THE ODD COUPLE II or OUT TO SEA.
-Vincent Zahedi
"Papa Vinyard"
vincentzahedi@gmail.com
Follow Me On Twitter