Ahoy, squirts! Quint here with today's Behind the Scenes Pic!
Dead and Buried is a great '80s horror film to bring to a party of horror fans because it's of an era that is immediately nostalgic, is quite good and isn't really well known. It has a great cast including Robert Englund, Grandpa Joe aka Jack Albertson, Lisa Blount (Prince of Darkness), Barry Corbin and other great character actors of the time and the creative team is also impressive, including a screenplay by Dan O'Bannon and the directorial prowess of Gary Sherman, who did a great Donald Pleasance film called Raw Meat. Click here to pick it up pretty cheaply on Blu-Ray if you want to check it out.
It's a weird one, but tonally it fits with The Fog (both set in coastal towns) and has some great makeup moments courtesy of a young Stan Winston, who is featured today working on one of his effects from the flick.
As you can see by the watermark, this image came from the Stan Winston School of Character Arts, a program dedicated to keeping up the artistry of practical and makeup effects. I love them keeping this art viable and fueling the creative types of the next generation the way Tom Savini and Dick Smith did before them. Make sure to check out their website and if you ever wanted to know how to bring creatures to life, consider enrolling. You couldn't learn from any better teachers. Enjoy!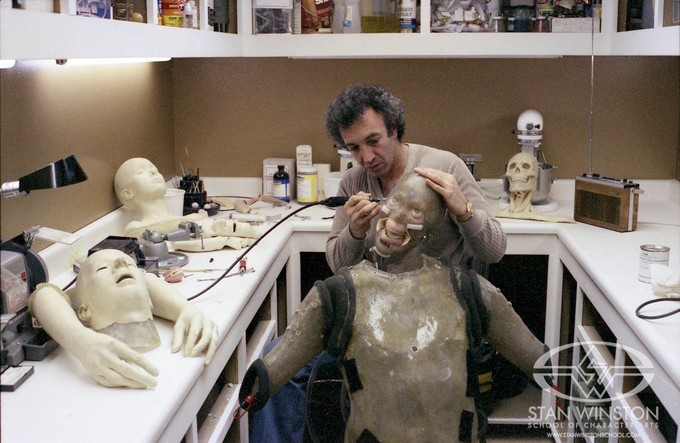 If you have a behind the scenes shot you'd like to submit to this column, you can email me at quint@aintitcool.com.
Tomorrow's behind the scenes pic is lurkin' in the dark.
-Quint
quint@aintitcool.com
Follow Me On Twitter
I've got a lot of maintenance work to do on the previous BTS articles, but you can visit two pages worth of images (beware of some broken links thanks to the last server shift): Click here for Page One and Click here for Page Two!