Papa Vinyard here, now here's a little somethin' for ya...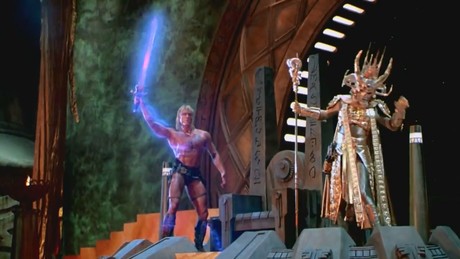 According to The Hollywood Reporter, screenwriter Terry Rossio is the latest scribe attempting to update MASTERS OF THE UNIVERSE for the 21st century. The project, which was formerly known as GREYSKULL, has gone through a bunch of writers, such as Richard Wenk (EXPENDABLES 2) and the team of Michael Finch and Alex Litvak, (PREDATORS), before giving the job over to Rossio. Mr. Rossio, with partner Ted Elliot, has crafted some successful and not-so-successful films for both Disney (ALADDIN, the PIRATES series, THE LONE RANGER) and Dreamworks (ANTZ, SMALL SOLDIERS, SHREK), so it seems like an easy move to get this guy to try and render the magical Eternian prince's adventures into a contemporary, family-friendly franchise. If he can bring the humor and scale on his own that his collaborations with Elliot were known for, we could very well see a big-budget, ambitious He-Man movie on screens sooner than later.
I'm of a generation who knows the character more from Robot Chicken, the '87 Dolph Lundgren movie, and the rumor that he originated as a repurposed CONAN action figure than anything else, so I'm skeptical as to the lingering potency of the brand, but who wouldn't want to see He-Man and Skeletor duking it out on a 200-million budget?
-Vincent Zahedi
"Papa Vinyard"
vincentzahedi@gmail.com
Follow Me On Twitter