Hey Yo, Draven here.
UPDATE: Or maybe not as Neil Marshall's wife is denying that he has signed on or has any involvement with this project:
Things I learned online today: My husband is prepping a sequel to KING KONG. Thanks, Internet!

— Axelle Carolyn (@AxelleCarolyn) October 4, 2013
Original story follows below: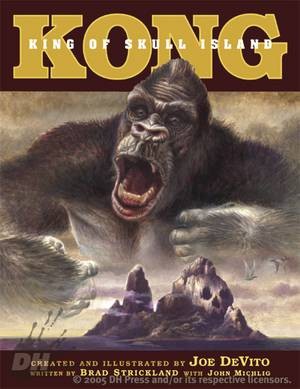 Tracking Board is reporting that Radar Pictures have acquired the rights to the 2004 graphic novel, KONG: KING OF SKULL ISLAND and have signed Neil Marshall (THE DESCENT, DOG SOLDIERS, CENTURION, GAME OF THRONES) to write and direct a feature film adaptation of it. There isn't a big studio attached to the project yet because of some rights issues but Badass Digest broke that down pretty terrifically.
This is excellent news as the graphic novel this is based on has received a lot of praise and Marshall is the perfect director to make this film. It is a direct sequel to the original KING KONG film and takes place 25 years after the end of those events. It ignores the original sequel, SON OF KONG and follows Carl Denham's son as he travels to Skull Island himself and makes some pretty awesome discoveries (trap setting dinosaurs).
It was authorized by the family and estate of original KONG director, Merian C. Cooper. You can pick up a copy of the graphic novel on Amazon here.
What do you guys think? Are you as optimistic about this as I am?
Follow me on Twitter here!