Ahoy, squirts! Quint here with today's Behind the Scenes Pic!
I didn't mean to make this a back to back Robert Kurtzman BTS picture run, but that's just how the cookie crumbled. Yesterday we had Mr. Kurtzman on the set of Scream and now we go back a few years to catch a much younger Kurtzman checking out his work on Kathleen Kinmont during the making of Bride of Re-Animator... at least I hope it's his work he's checking out because he eyeline is a little bit suspicious.
Oh, by the way... I suppose you could call this pic NSFW, especially if you're into dead chicks. So, don't scroll down if you're around impressionable eyes/asshole bosses.
Also, for makeup effects fans, you might notice another prominent member of KNB is featured in the pic, too. Mr. Howard Berger is delicately uh... well, making up Ms. Kinmont's posterior.
Thanks to Dimitar Dimitrov and the Practical Effects Group for the image. Enjoy!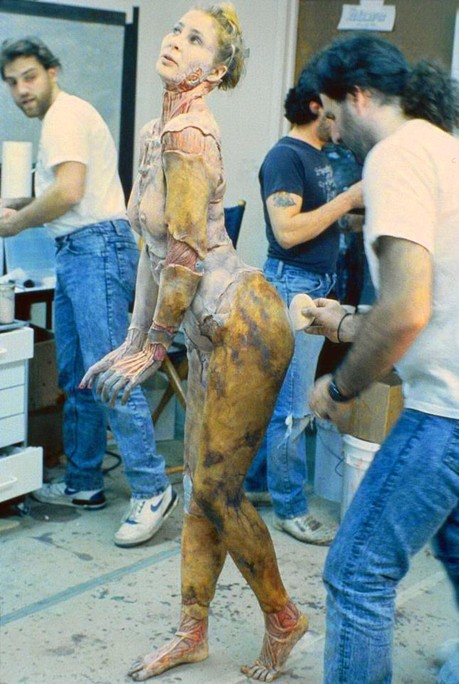 If you have a behind the scenes shot you'd like to submit to this column, you can email me at quint@aintitcool.com.
Tomorrow's behind the scenes pic features a classic monster.
-Quint
quint@aintitcool.com
Follow Me On Twitter
I've got a lot of maintenance work to do on the previous BTS articles, but you can visit two pages worth of images (beware of some broken links thanks to the last server shift): Click here for Page One and Click here for Page Two!