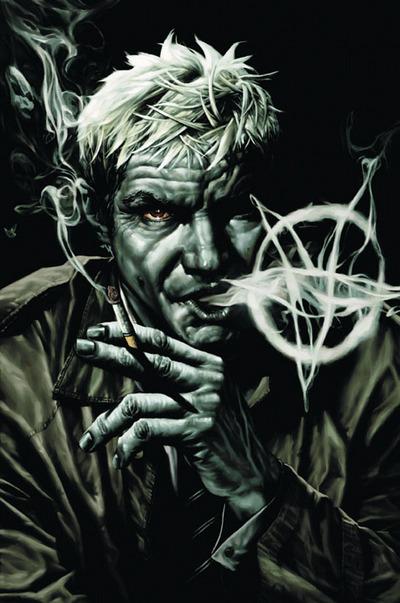 NBC, which failed to take David E. Kelley's "Wonder Woman" to series a couple of seasons ago, is now working with screenwriter David S. Goyer to bring the DC Comics icon John Constantine to the small screen.
Sting-lookalike Constantine, created in 1985 by the great Alan Moore ("V For Vendetta," "Watchmen," "From Hell," "The League of Extraordinary Gentlemen") in the pages of the "Swamp Thing," is a witty, hard-living, cigarette-loving British sorcerer.
Contantine's Swamp Thing introduction is one of the best stories I've ever read in the comics. Empire Magazine ranked Constantine the 3rd greatest comic-book character of all time (after Superman and Batman). Wizard ranked Constantine the 10th greatest comic book character of all time (beating the likes of The Hulk, The Flash, The Thing and Green Arrow).
He was transformed into a dark-haired American for Francis Lawrence's flaccid and point-missing 2005 Keanu Reeves movie.
Goyer has made a career out of adapting funnybook tales for the screen, starting with the 1998 David Hasselhoff TV movie "Nick Fury: Agent of SHIELD." He went on to write all three Blade movies (directing the third, "Blade Trinity," himself), he masterminded the "Blade" TV series, he co-wrote "Batman Begins" with the Nolan Bros., he scripted "Man of Steel" and he is hard at work on its sequel, which will pit Superman against Batman. Goyer also received "story" (but not screenplay) credits for the Nolan Bros.' "The Dark Knight" and "The Dark Knight Rises."
Before masterminding Starz' "Da Vinci's Demons," Goyer served as creator/showrunner on three awful TV series: Spike's "Blade: The Series" CBS's "Threshold" and ABC's "FlashForward."
Aside from his comic-book adaptations, Goyer's received credit for his work on the big screen's "Death Warrant," "Kickboxer 2," "The Puppet Masters," "Dark City," "Zig Zag," "Jumper," and "The Unborn." He also received a "story" credit on Warner Bros.' 2014 "Godzilla" remake.
Longtime TV writer-producer Daniel Cerone ("Charmed," "Dexter," "Dirty Sexy Money," "The Mentalist") will partner with Goyer on the project. Find all of Deadline's exclusive on the matter here.