Papa Vinyard here, now here's a little somethin' for ya...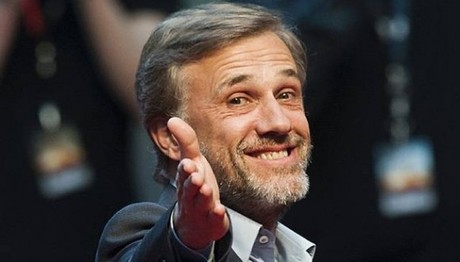 Even though there were rumblings earlier this year that the David Yates-directed TARZAN reboot starring Alexander Skarsgard was on the verge of falling apart, there's been a casting development that ensures that pre-production is still underway on the Warner Bros. update. Variety broke the news today that the production is aiming to cast Christoph Waltz, a two-time Academy Award-winner and the only person to date to win an acting Oscar for a Tarantino film, as the film's big baddie. Also, Emma Stone and Australian actress Margot Robbie (ABOUT TIME, WOLF OF WALL STREET) are rumored to be in consideration to play Jane, Tarzan's classic romantic foil.
While this news doesn't necessarily make me want to Tarzan-yell from the treetops (Waltz, in all his two gun-barreled glory, could not save THE GREEN HORNET), it would be a huge boost in credibility for the production to lock down the already-legendary Austrian actor. He'd probably be playing a Civil War veteran who, for some reason or another, ends up on the wrong side against Lord Earl of Greystoke and his army of apes. One could expect a DJANGO-esque situation here, where the lead is mostly relegated to mumbles and grunts, leaving most of the dialogue work to Waltz's more-than-capable hands. Fine by me.
As for Jane, I don't know anything about Robbie, but it's not hard to picture a street-savvy, urbane Stone pairing off with a feral Skarsgard. It would be just outside-the-box enough for her to avoid coming off as typecast, while playing into her strengths by highlighting her natural sense of intelligence and confidence.
All this speculating on the final film is worthless without knowing the quality of the script, which has been worked on by a revolving door of screenwriters including Tim Burton's go-to scribe, John August. The latest re-write was by Adam Cozad, whose sole credit is the upcoming JACK RYAN: SHADOW ONE, which has yet to be seen. Whatever Cozad and Yates come up with for Skarskgard and co., it has to be better than the last live-action theatrical TARZAN adventure...
If greenlit, TARZAN will swing into production next summer for a release date probably sometime in 2015.
-Vincent Zahedi
"Papa Vinyard"
vincentzahedi@gmail.com
Follow Me On Twitter