Hey guys! Horrorella here...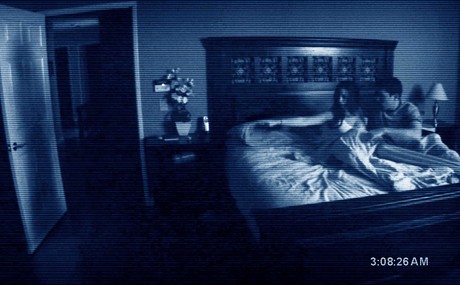 PARANORMAL ACTIVITY fans are in store for a pretty boring October, with no film set for release this year (the first year, in fact, since the original film scared the living shit out of audiences in 2009). But the series is far from dead. Paramount is gearing up to release not one, but two installments next year.
The first will be a the Latin-themed spin-off entitled PARANORMAL ACTIVITY: THE MARKED ONES, due out on January 3, 2014.
THR is reporting PARANORMAL ACTIVITY 5 has just secured its writers, bringing Jason Pagan and Andrew Stark aboard the project. The duo are no strangers to found footage, having written the Platinum Dunes-produced ALMANAC, a sci-fi found footage film that will be released in February.
No word yet on plot details for PA 5, or how it will connect to the other films. Personally, I found PA 4 to be an incredibly disappointing experience on just about ever level, so I hope they step it up and bring their A game in the next installments.
PARANORMAL ACTIVITY 5 is slated for release on October 24, 2014.
Follow me on Twitter