Cool News
Annette Kellerman From Fantastic Fest 2013: THE UNKNOWN KNOWN And MONSOON SHOOTOUT!!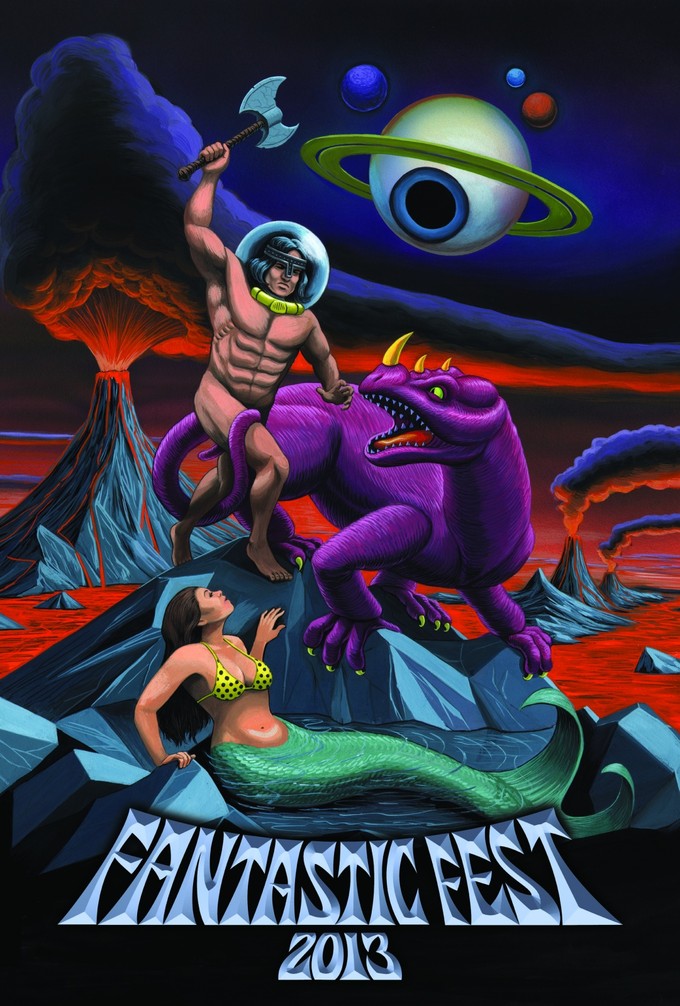 MONSOON SHOOTOUT

Set in the gritty streets on Mumbai, MONSOON SHOOTOUT puts a unique spin on a typical crime drama. The film begins with Adi, a rookie cop who is learning that justice and street justice are two different animals. His boss, Khan, has already made him cover up his execution of two criminals, and Adi still can't reconcile taking out the bad guys rather than going through the justice system.

A kingpin known as Slum Lord rules the city's underbelly along with his number one hit man, Shiva. When Adi finally encounters Shiva one night during an epic monsoon, Adi's actions set off an intriguing chain of events for each character. And now here's the twist. We get to see three additional outcomes for the variations in Adi's reactions. Based on whether Shiva escapes, gets caught, or gets killed, each scenario plays out in a completely new, yet logical way revealing sides of each character that vary incredibly between each of the acts.

I really dug this concept of getting to see how a character's actions influenced the various outcomes. Though some of the stories ended well, each is mired in tragedy. It illustrates that sometimes there isn't a "right" reaction, and in the crime world no matter the outcome there are rarely any real winners. Poignant subplots involving Adi's family and long lost love, Shiva's wife and son, and even a prostitute at a local brothel all play perfectly to the main story itself and help to give the film its true heart.

Writer/Director Amit Kumar brilliantly weaves four separate, yet linked crime stories that culminate in an astute and beautiful study of actions and consequences. The stories are smart and compelling and also make total sense in the big picture. The film is nicely shot, especially the sequence in the monsoon that is revisited for each version of the story. The downpour forces a feeling of chaos by hindering the character's ability to see and hear. It also nicely facilitates the fantasy aspect of the numerous narratives.

I'm not at all sure when or if MONSOON SHOOTOUT is coming to a screen near you. It is definitely worth checking out if you get the chance, so be on the lookout!



THE UNKNOWN KNOWN

This latest effort by legendary documentarian Errol Morris chronicles the career of Donald Rumsfeld. Structured around the epically numerous memos created during his 40-plus year tenure in politics and public service, the film illustrates his point of view throughout some of the biggest stories in the past half century.

Employing his "Interrotron" shooting style in which an interview subject looks directly into the camera, Morris subjects Rumsfeld to a battery of topics from his early start in politics to his infamous press conferences as secretary of defense. Stock footage paired with the interviews helps to break up the monotony of Rumsfeld's storytelling.

Perhaps I was expecting too much from an Errol Morris documentary about Donald Rumsfeld. I guess I was hoping for more of a revelation or twist, but alas the film is pretty straightforward. Though there is one moment where Morris pulls a Daily Show-esque number on his subject in which he juxtaposes an answer he gives to stock footage of him basically taking the opposite stance, there are certainly no gotchas in THE UNKNOWN KNOWN. To make matters worse a running time of 1 hour 36 minutes made it even tougher to make it through.

On the bright side- where things ultimately get ironic- I found that I actually walked out of the movie liking Donald Rumsfeld a bit more than when I started watching. Whether intentional or not, Morris has managed to show a personal side to the often hated luminary that gives a slight humility to the man that I've never been aware of before.

For diehard Morris fans, THE UNKNOWN KNOWN is obligatory viewing, but for the un-indoctrinated it might be a pretty laborious to watch. Don't say I didn't warn you.


Until next time,

Annette Kellerman