Cool News
Muldoon checks out THE CONGRESS at Fantastic Fest 2013!
Hello ladies and gentlemen, Muldoon here live (or as live as a typed thing on the internet can be) from Fantastic Fest, the genre fest that never ceases to amaze. Holy hell is there a smorgasbord of things to do, movies to see, games to play, hot lovely ladies to romance…. Wait. I'm pretty sure by now you've heard all sorts of stories from Fantastic Fest, so I'll focus on why we're here: THE CONGRESS.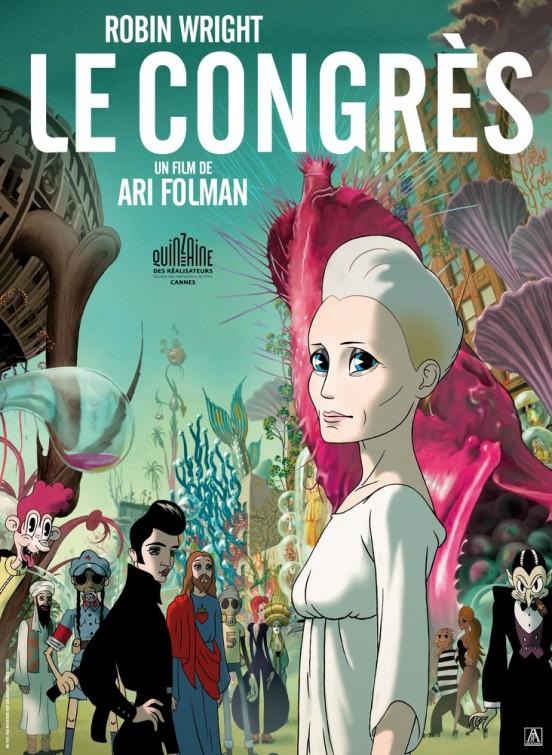 I'm a sucker for strong visuals, so when I first caught the trailer for Ari Folman's (WALTZ WITH BASHIR) latest theatrical celluloid experience I was genuinely excited to see the film. Add on top of that the ever-lovely Robin Wright, the Buttercup of so many young men's hearts was the lead… I was filled with anticipation. (All cards on the table, I wanted very much to love this film, which absolutely could be all on me and in my head). By no means do I consider myself a professional movie blog reviewer (syntax?), so before I go any further, just remember I'm only one dude with one opinion and it could very much not gel with yours.
Harvey Keitel, Paul Giamatti, Robin Wright, Kodi Smit-McPhee, Danny Huston, and Jon Hamm. Boy, that's one hell of a cast and I sincerely think each and every one knocked it out of the park. There was a realness, a raw "I'm speaking from experience, not from a script" that resonated every single time Keitel opened his mouth. The premise of the film is based off a science fiction story Stanislaw Lem and was adapted for the screen by Folman. It centers around Robin Wright, who plays a version of herself in the film. When Robin is approached by her agent (Keitel) for a unique new Hollywood concept, to do away with actors by scanning them and using those scans to create characters (3d/animated…) for films and TV, she finds herself facing one of the most difficult decisions of her life.
Wright seems to have given Folman carte blanche as there are numerous references to films she's done and decisions she's made, both good and bad. Rest assured, there are no lurking elephants in the room, Robin Wright lays it all out there. I'll be honest, I don't really follow Wright's work. Of course her earlier work made up a bit of my childhood, but she's not been involved with anything in the last few years that's had this kind of meat to it. Sure, she kills it in HOUSE OF CARDS, but this film solidifies the fact that she's on the upswing, so in my humble opinion, her gamble with Folman paid off. She's made me care about her again, and in an age where the Kardashians and Honey Booboos seem to own most entertainment outlets, it's refreshing as hell to wonder "What is she going to do next?" This movie made me think that – that's a big compliment in my eyes.
We spend the first half of the film with her debating on whether or not to agree to the scanning, something that on the surface seems wonderful, ageless beauty, an immortality (until even more cutting edge technology is created). We spend time with her, and her children (Kodi Smit-McPhee and Sam Gayle) and it makes her real. It makes her no longer "just a movie star," but a real person with a truly heavy decision to make. Imagine you, take whatever you love to do (Bake? Draw? Write? Teach?) and take that away, what's left? That's it, that's her dilemma. It's not about money. It's not about fame (though vanity is involved), but holy hell, that's deep.
Now licensing a persons look isn't something new. I mean just a few years back I remember that Fred Astaire Dirt Devil commercial, or even just a few months ago there was that Bruce Lee thing. We're getting to a point where this isn't that far fetched of an idea. In a given action scene (Like AVENGERS or CLASH OF THE TITANS) if you watch the shot for shot break downs, it's incredible how VFX magicians can blend shots or elements together with 3D models of actors, so making a CG version isn't that off.
I'm not going to give you a play by play of the film, because then what's the point of seeing it? What I will tell you is I liked it. I thought it had a lot to say about celebrity, what it means to be human, what it means to be offered virtual immortality and at what costs? The acting, across the board, is stellar. The visuals are imaginative and trippy. There are many sequences that felt like a bad acid trip, like Toon Town in ROGER RABBIT or COOL WORLD. Films like THE MATRIX and ANTIVIRAL kept popping into my head as I watched. In a terribly flippant way, I'd say this is almost the same story as THE MATRIX. There are certainly many similarities. "Which pill does Robin take?" Well you'll have to see the film to find out (chances are you have an idea, but I'm going out of my way to be vague here – spoiler free).
I don't write often here, but I'd like to think with me you know you've got someone you can trust, maybe not agree with all the time, but trust. Would I pay $10.00 to see this in theaters? Yes. Would I suggest others to check it out in theaters? Yes. If anything, wait for it to hit VOD if you're on the fences (or Netlfix for that matter). I liked the film. It deals with some interesting and unique themes and while I do think it's paced a tad slow after the midpoint, I'm not complaining, because A) You have solid performances from everyone in this, and B) It's visually striking, so your eye never lingers. There's never a true dull moment in THE CONGREE. So friends, if you get a chance to see it, do yourself a solid and see it in a nice big theater where you can immerse yourself into the world Wright and Folman have created. I'll catch you all later with another Fantastic Fest flick.
- Mike McCutchen
"Muldoon"
Mike@aintitcool.com