Hey guys! Horrorella here...
With PRISONERS opening this weekend, all eyes are on Jake Gyllenhaal and director Denis Villeneuve. But the kidnapping thriller isn't the only project the two have been working on together. A trailer has just been released for ENEMY (thanks to The Playlist), which premiered at TIFF.
Gyllenhaal stars as a troubled and paranoid teacher (evident in the monologue presented in the trailer) who, after spotting his identical double in a bit part in a movie, decides to track him down. Naturally, I'm sure that leads to interesting and possibly dark places.
The trailer doesn't give a ton of clues in the way of the plot, but it is intriguing, nonetheless. Reactions from TIFF were very positive, and I am interested to see how Gyllenhaal plays the different charactes.
Here's the official synopsis from TIFF:
Brilliantly adapted from the late Nobel Prize-winning author José Saramago's 2002 novel The Double, the latest from the Academy Award-nominated Denis Villeneuve breathes new life into the doppelgänger tradition, with a hypnotic, haunting, surreal approach that reaffirms the Quebec director as one of our generation's most skilled storytellers.

Adam Bell (Jake Gyllenhaal) is a glum, disheveled history professor, who seems disinterested even in sex with his beautiful girlfriend, Mary (Mélanie Laurent). Watching a movie on the recommendation of a colleague, Adam spots his double, an actor named Anthony Clair, in a bit role, and decides to track him down — an adventure he quite relishes. The identical men meet, and their lives become bizarrely and irrevocably intertwined.
A24 has picked up the film for distribution, but no release date has been set yet.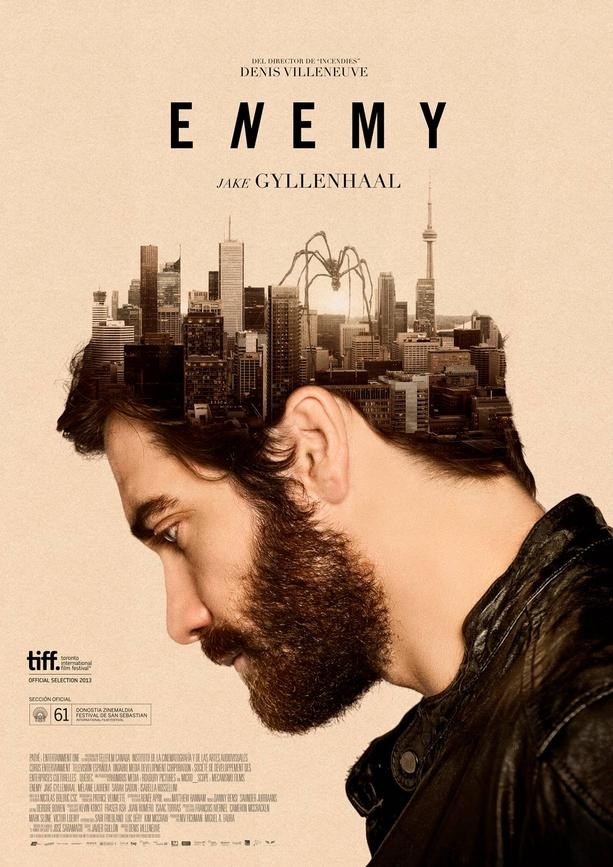 Follow me on Twitter