Papa Vinyard here, now here's a little somethin' for ya...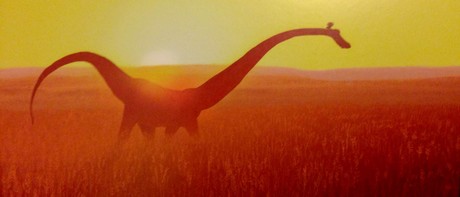 The L.A. Times reported today that THE GOOD DINOSAUR, the Pixar release that was expected to hit next summer, has been pushed back to late 2015. This news comes on the heels of rumors regarding behind-the-scenes disputes over the direction of the film, leading to the axing of Bob Peterson last month. To accommodate, Disney is pushing MALEFICENT up to THE GOOD DINOSAUR's old release date, while Pixar is delaying FINDING DORY (which was slated to arrive on GOOD DINOSAUR's new release date) a year back to Summer 2016.
While Pixar was able to crank out the final version of TOY STORY 2 in less than a year, we have seen the more recent (and more dismal) result of these kind of late-game problems with the Brenda Chapman-lite release of BRAVE. That film was a loosely-threaded mish-mash of story ideas and scenes that didn't really resonate like the best Pixar flicks, so if a little extra time is what is needed to make sure THE GOOD DINOSAUR comes off as something more timeless and memorable, then who cares if we need to wait another year and a half to see it?
And even though we won't have a 2014 Pixar film, maybe a year off will allow moviegoers to take note and reenvigorate the potency of their brand when they come back in full swing for 2015. Especially considering they'll now be dropping INSIDE OUT (which I'm admittedly more excited for) the season before THE GOOD DINOSAUR finally reaches theaters.
THE GOOD DINOSAUR will walk on November 25th, 2015, while FINDING DORY will swim into theaters on June 17th, 2016.
-Vincent Zahedi
"Papa Vinyard"
vincentzahedi@gmail.com
Follow Me On Twitter