Coaxial
AMC To Air 7 Hours Of MAD MEN In 2014 And 7 More In 2015!!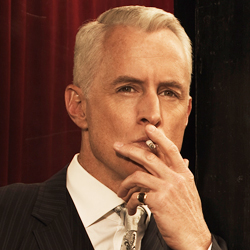 AMC is taking the "Breaking Bad" route with "Mad Men," airing seven hours of the advertising saga's final season in spring 2014 and another seven in 2015.
The channel typically airs 13 hours of "Mad Men" each year.
Look! Press release!
MAD MEN SERVES "SEVEN AND SEVEN"

AMC Orders Extra Episode, 14 Episodes To Be Equally Portioned Between Spring 2014 And 2015

NEW YORK, NY, Sept. 17, 2013 – AMC announced today that the final season of the Lionsgate series Mad Men will be expanded to 14 episodes and equally portioned with seven episodes airing in spring of 2014 ("The Beginning") and the final seven episodes of this iconic series ("The End of an Era") airing in the spring of 2015.

"This approach has worked well for many programs across multiple networks, and, most recently for us with Breaking Bad which attracted nearly double the number of viewers to its second half premiere than had watched any previous episode," said Charlie Collier, AMC president. "We are determined to bring Mad Men a similar showcase. In an era where high-end content is savored and analyzed, and catch-up time is used well to drive back to live events, we believe this is the best way to release the now 14 episodes than remain of this iconic series."

"We plan to take advantage of this chance to have a more elaborate story told in two parts, which can resonate a little bit longer in the minds of our audience," said Matthew Weiner, creator and executive producer, Mad Men. "The writers, cast and other artists welcome this unique manner of ending this unique experience."

"Mad Men has had a transcendent impact on our popular culture, and it has played a prominent role in building our Lionsgate brand," said Kevin Beggs, Chairman, Lionsgate Television Group. "We anticipate a remarkable seventh season thanks to the brilliance of Matthew Weiner, the entire creative and production team, and our tremendous partnership with AMC. We're all working to ensure that the series will have the kind of powerful send-off it so richly deserves."

The first half of the final season of Mad Men will premiere on AMC this spring.

Since the series premiere in 2007, "Mad Men" has become one of television's most honored shows. The show has earned six Emmy® Award nominations for Outstanding Drama Series leading to four wins for Outstanding Drama Series. Additional honors for the series includes: three Golden Globe® Awards for Best Television Drama Series; a Peabody Award; three Producers Guild Awards; four Writers Guild Awards; two BAFTA Awards; five Television Critics Association Awards including Program of the Year, and being named five years running to AFI's Top 10 Outstanding Television Programs.

The show stars Jon Hamm, January Jones, Vincent Karthheiser, Elisabeth Moss, Christina Hendricks, John Slattery, Aaron Staton, Rich Sommer, Robert Morse, Kiernan Shipka, Jessica Pare and Kevin Rahm. ###