Cool News
Trailer for Alexander Payne's NEBRASKA , Staring Bruce Dern and Will Forte!
Hey guys! Horrorella here...
The first trailer for Alexander Payne's (THE DESCENDANTS, SIDEWAYS) new film, NEBRASKA has hit, and it looks promising. Bruce Dern stars Woody, a man who believes that he has just struck it rich by winning a million dollars in a sweepstakes. He sets out to Nebraska to claim his prize with his son, David (Will Forte), in tow. David sees the proposition as a complete scam, but doesn't see the harm in letting his father follow the dream a little bit longer. The situation naturally becomes more complicated when Woody's entire family and the residents of his small Montana town begin buying into the story as well, banking on his new-found wealth.
I'm digging the black-and-white '70's aesthetic and minimalist approach that Payne is using here. But I think the promise of Bruce Dern's performance is what I'm most looking forward to on this one.
The film co-stars Stacy Keach, Bob Odenkirk, and June Squibb, and will open on November 15th.
What do you guys think?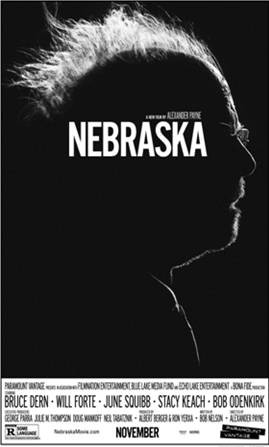 Follow me on Twitter