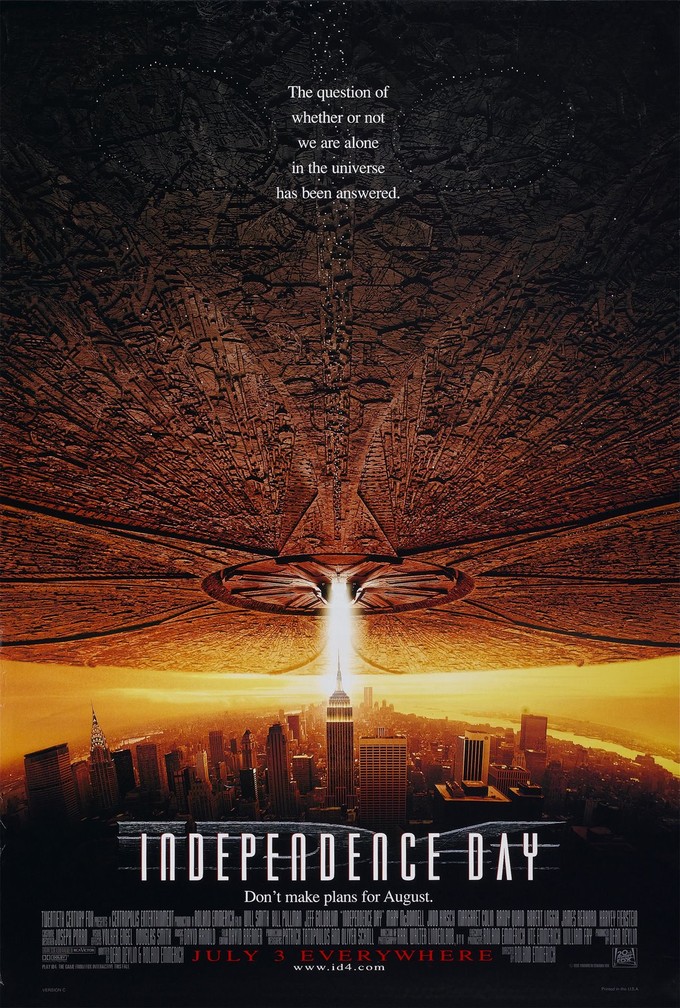 For a while now, we've been understanding that Roland Emmerich's upcoming INDEPENDENCE DAY sequel might actually be two movies. Now it's looking like this may not necessarily be the case.
In a discussion with Empire, Emmerich reveals that the current plan is to more or less shoot one movie as a cliffhanger, then see what happens.
According to Emmerich, the plan remains for a cliffhanger to divide the two sequels. Intriguingly, he'll eschew the Peter Jackson approach of shooting both films at once in favour of a costlier suck-it-and-see strategy. "We'll only do the first part," he says, "because we want to have the audience decide if they want to see the second, otherwise it feels arrogant. But I'm pretty confident, with the right script..."
...says Emmerich HERE.
I enjoyed the first film quite a bit, warts and all (yes, imperfection runs amok throughout it) - and am intrigued by the notion of this sequel's parallel history...i.e. getting to see how we've rebuilt Earth after the aliens stuck it to us in the first film (ostensibly a re-built Earth at least partially hinged on cannibalized/back-engineered alien technology).
Alas, a solid setting does not a successful film make. I suspect, at the end of the day, recapturing the "fun" and "heart" of the original (nuttiness and all) may be a significant component in audiences embracing future go-rounds. To be clear, I mean recapturing the essence and vibe - but not repeating itself. A tricky, but attainable, balance.
What do you think?
Hoping David Arnold comes back for this one. He worked with Emmerich & Devlin on STARGATE and INDEPENDENCE DAY and GODZILLA before all headed different directions. 'Twould be lovely to see him back in the fold here...
-------------------
Glen Oliver
"Merrick"
- e-mail
- Twitter