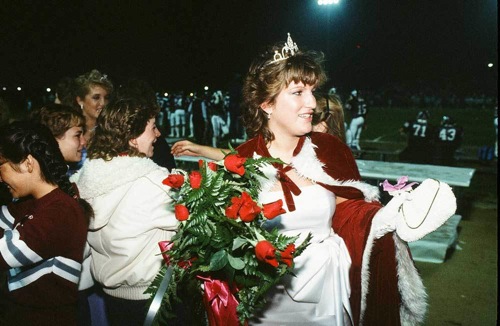 Keva Rosenfeld's ALL-AMERICAN HIGH captures with feathered, acned honesty the life and times of the American teenager in 1984. Shot at Torrance High School in Southern California, it's basically narrated by Rikki Rauhala, a cute and vivacious Finnish exchange student whose insights into American youth culture during the Reagan era often prove remarkably astute - even as she confesses to being completely overwhelmed by the country's insane materialism and seemingly haphazard approach to education. We see kids preparing to read HEART OF DARKNESS, going to shop class, and very tentatively debating American foreign policy, but their focus is clearly on the social aspect of high school: football games, parties and hanging at the mall. And it takes an outsider like Rauhala to make us realize just how bizarre this whole routine is.
When Rosenfeld's documentary first aired on PBS back in 1987 (it also received a brief theatrical release), it was dubbed a real-life FAST TIMES AT RIDGEMONT HIGH for its unvarnished insight into the lustful hearts and easily-distracted minds of its teenaged subjects, but it all seems charmingly innocent now. This is largely because these kids lack the play-to-the-camera media savvy that today's high-schoolers possess; they weren't weaned on reality shows, and don't have the first fucking clue what a "selfie" is. They're fully engaged in the world around them, which makes them incredibly vulnerable to Rosenfeld and his crew.
This doesn't mean they're camera shy. Far from it. One of the film's most hilarious segments is set at a party thrown by an entrepreneurial Joel Goodson-wannabe who cooly explains how he's emptied his parents' house of all valuables, while charging revelers for the privilege of drinking from the multiple kegs of beer he's secured. By the end of the night (which he brings about by calling the police on his own party for fear things are getting a tad out of control), he's bragging to the camera that once he covers expenses and damages, he'll be turning a tidy profit. Today, this kid is either a multi-millionaire or serving a lengthy jail term for embezzlement.
At sixty-one minutes, ALL-AMERICAN HIGH isn't trying to articulate the complexities of the high school experience; it's more of a time capsule than a withering commentary on the state of the American education system. In that vein, it's a wincingly entertaining nostalgia trip. I love the teacher who punishes his late-arriving students by forcing them to sing a selection from the Billboard Top Ten. And then there's the social studies class casually signing off on the Mutually Assured Destruction logic of the Cold War. It's all "whatever". Privately, we might've all been scared out of our minds by the prospect of nuclear war (we all watched THE DAY AFTER), but if you were white and living in the suburbs, things were generally looking up in America. Rikki Rauhala was in the right part of America at the right time. We didn't know how good we had it, and that we didn't entirely deserve it.
ALL-AMERICAN HIGH plays September 14th at the Cinefamily on a triple bill with the short documentary "Junior High School" and Mark L. Lester's exploitation classic CLASS OF 1984. It will then be screened on a double bill with "Junior High School" on September 16th to the 19th. Check out the Cinefamily's website for details and tickets. By all means, get out and see these rarely-screened treasures.
Faithfully submitted,
Mr. Beaks