Papa Vinyard here, now here's a little somethin' for ya...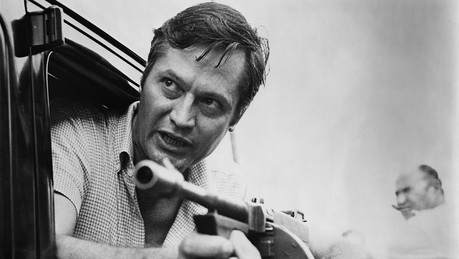 This past Tuesday, ScreenDaily.com posted an update on several in-development projects from some big-name directors, several of which I hadn't heard about previously. Perhaps most significantly, Joe Dante has finally gotten his Roger Corman biopic off the ground, and is confirmed to direct THE MAN WITH KALEIDOSCOPE EYES (cellophane flowers of yellow and green…) based on the legendary producer/director's life in the mid-to-late '60s. This would be roughly around the time that people like Jack Nicholson, Peter Fonda, Dennis Hopper, Pam Grier, Martin Scorsese, Francis Ford Coppola, Peter Bogdanovich, Jonathan Demme, and (you guessed it) Joe Dante were entering Corman's sphere, so it seems like ripe material for the cinema-obsessed Dante. His MATINEE was largely an homage to another massive figure in B-movie cinema, William Castle, and it remains a loving, sincere tribute to both the icon and the era in which he thrived. I can only hope that Dante's Corman tribute will translate his devout love of film and film history as well as that film did.
Also, Brian De Palma's follow-up the mildly-received PASSION will be a "meta-adaptation" of Emile Zola's 1867 novel THERESE RAQUIN starring THE NEWSROOM/REDBELT star Emily Mortimer. The book is about a young woman who gets married, then falls for the groom's best man, and then plots her husband's murder. Sounds very De Palma already, don't it? Well, here's where the meta aspect comes in; the movie will actually be an ADAPTATION/SHADOW OF THE VAMPIRE-type spin on the story focusing on a modern film crew's attempt to shoot the novel, when those involved with the film start enacting the very story they are in the process of filming. I can't wait to see De Palma unleash his bag of cinematic tricks on this interesting, subversive premise, which seems to be more in line with his classic works than much of his recent output (although, so did BLACK DAHLIA…).
That ScreenDaily article also has updates on David Mamet's BLACKBIRD (production will begin in January) and David Cronenberg's MAPS TO THE STARS (it's wrapped production, and is now in post). These are some of my (and your) favorite filmmakers we're talkin' about here, and even if their films aren't as unanimously beloved and praised as they were in their respective haydays, it is quite exciting to see them all working on interesting-sounding projects like these. I mean, who reads this site and isn't going to see a fucking Joe Dante biopic of Roger Corman (with an approving cameo by the impresario, to boot)??
-Vincent Zahedi
"Papa Vinyard"
vincentzahedi@gmail.com
Follow Me On Twitter