Ahoy, squirts! Quint here with today's Behind the Scenes Pic!
Hoo, busy, busy day. Fantastic Fest starts up in a week, people are coming into to town and the schedule was just released... add on to that a surprise appearance by an adorable Golden Retriever puppy at my doorstep and an afternoon spent getting that little cutie back to her person and you can hopefully understand why I'm getting this image to you just under the wire (midnight CST is quickly approaching.
Thankfully there's not much set up needed for this great image of Sean Connery during the making of James Bond flick DIAMONDS ARE FOREVER. I have an automatic nostalgia for all Connery Bonds (thanks to an obsessive stepfather), but it's not too controversial to think this one is the weakest of them (if you don't count Never Say Never Again, which you shouldn't). Still, it's damn fun to watch.
I would comment on his hairy chest and make some kind of joke, but then I get assaulted by mental images of Zardoz. Enjoy Connery's manliness!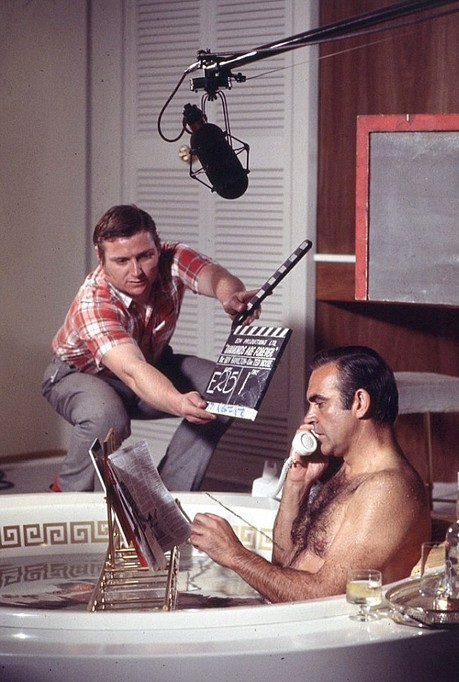 If you have a behind the scenes shot you'd like to submit to this column, you can email me at quint@aintitcool.com.
Tomorrow's behind the scenes pic is eating the guests, sir.
-Quint
quint@aintitcool.com
Follow Me On Twitter
I've got a lot of maintenance work to do on the previous BTS articles, but you can visit two pages worth of images (beware of some broken links thanks to the last server shift): Click here for Page One and Click here for Page Two!