Papa Vinyard here, now here's a little somethin' for ya...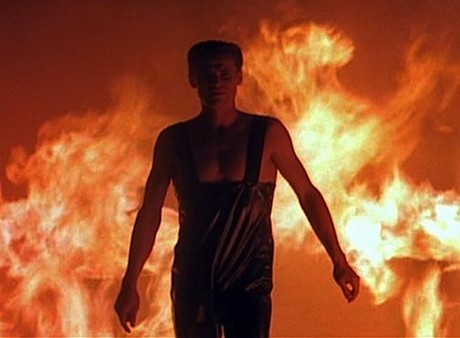 Deadline has reported that Willem Dafoe will be joining Keanu Reeves on his hitman flick JOHN WICK. WICK has Keanu playing the title character, a contract killer who gets out of the biz when his wife gets caught in the line of fire. But then…they killed his dog! After a random criminal blows up his car and his beloved canine (which was a gift from the late wife), WICK sets off to hunt the bastard down to teach him a thing or two about manners n' such. Turns out the crook's connected, and before you know it, Wick's old assassin buddy (played by Dafoe) is the one taking the contract out on him! As M. Night would say, "What a twist!"
First time feature-film directors Chad Stahelski and David Leitch are stunt guys, having collaborated on the stuntwork for films like SPEED RACER, 300, and SERENITY, and Stahelski helped choreograph Reeves' own upcoming beat-'em-up MAN OF TAI CHI (which is awesome). The writer, Derek Kolstad, has scripted a couple of Dolph Lundgren DTV actioners, THE PACKAGE and ONE IN THE CHAMBER. None of them have worked in their respective capacities on a relatively high-profile gig like this before, but if they can bring their pulpy, stunt-heavy sensibilities to the table, it could be a cool action vehicle to let Reeves and Dafoe really dig into their tough-guy bag-o'-tricks. I like the idea of those two actors going head to head, and this seems like a good venue for them to do so.
Plus…the film's about Reeves getting revenge on the bastard that killed his dog! I can't be alone in thinking that the premise has potential for some really killer action-comedy, right?
-Vincent Zahedi
"Papa Vinyard"
vincentzahedi@gmail.com
Follow Me On Twitter