Hey Yo, Draven here.
We finally get the answer to the conudrum of who the bigger badass is, Jason Staham or James Franco? And it all is because of a playground fight between two young children. That pretty much sums up this first trailer for the Sylvester Stallone written, Gary Fleder (KISS THE GIRLS, THE EXPRESS) directed action-thriller. Yahoo premiered it and we have it for you:
It looks like a pretty clichéd action film but it has Jason Statham kicking things and James Franco portraying an over the top villain so I will be there opening day. Plus, with Stallone the only credited screenwriter (pretty crazy, I know), it pretty much guarantees there will be an old school badass feel to it. (I am just disappointed he didn't actually direct the thing.)
The playground fight setting the whole thing in motion is silly but as long as they make Franco and his alligator tattoo seem like a credible threat I will get over that. But, here is a new poster (seriously, the Stars & Stripes on Statham's denim jacket is amazing) for the film and the official plot synopsis (as if it matters):
"Former drug enforcement agent, Phil Broker (Statham), a family man who moves off the grid with his daughter, to a seemingly quiet bayou backwater to escape his troubled past. However, Broker's world soon becomes anything but quiet once he discovers that an underbelly of drugs and violence riddles the small town. Soon, a sociopathic methamphetamine kingpin, Gator Bodine (Franco) puts Broker and his daughter in harm's way forcing Broker back into action in order to save his family and the town."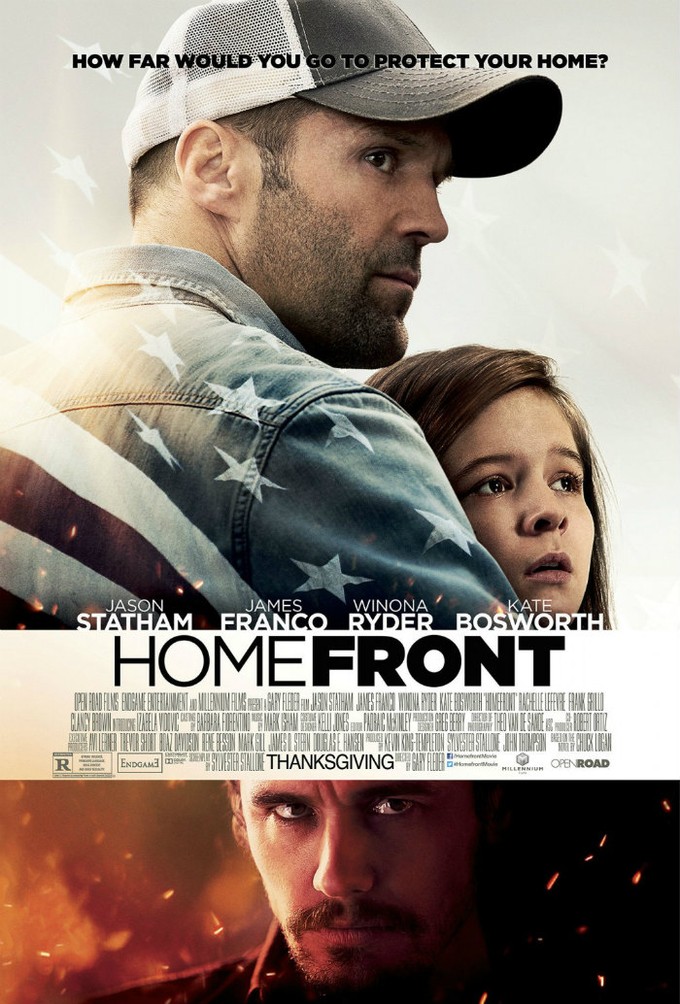 Give thanks for Jason Statham and his ass kicking ability when HOMEFRONT opens in theaters on November 27, 2013.
Follow me on Twitter here!