Papa Vinyard here, now here's a little somethin' for ya...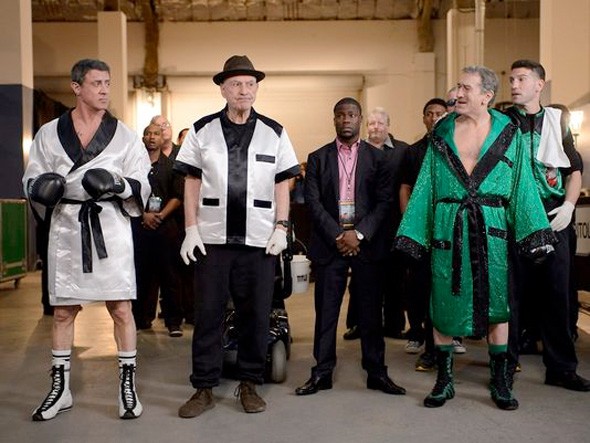 We'd gotten pics taken from the set of the De Niro/Stallone slugfest GRUDGE MATCH, but we hadn't seen any official looks at the film until today. USA TODAY has given us our first real peek at the film via this screenshot, and it shows off our two central boxers played by Robert De Niro and Sylvester Stallone, as well as members of their respective entourages played by Alan Arkin, Kevin Hart, and Jon Bernthal. We should be getting a trailer soon, but this is a great way to announce both the premise and the loaded cast of this prospective holiday-season hit.
My doubts mostly lie with the director, GET SMART/50 FIRST DATES helmer Peter Segal, but part of me is in love with the idea of De Niro acting crotchety towards Stallone while Bernthal backs him up, Arkin shrugs it off, Hart tries to keep it together, and Sly just Ray Tangoing right past it. And it sure'll be fun to watch Sly and Bobby smacking the piss out of each other in the ring.
GRUDGE MATCH begins on December 25th.
-Vincent Zahedi
"Papa Vinyard"
vincentzahedi@gmail.com
Follow Me On Twitter