Cool News
PARADISE NOW director Hany Abu-Assad to take a stab at the SYMPATHY FOR MR. VENGEANCE remake!
Papa Vinyard here, now here's a little somethin' for ya...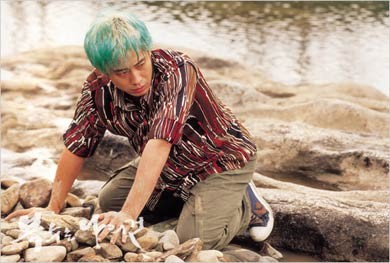 So we have our Spike Lee OLDBOY remake coming up soon, we've heard grumblings about a Charlize Theron-starring adaptation of LADY VENGEANCE, and now, we have word that an American version of the remaining "Vengeance Trilogy" entry, SYMPATHY FOR MR. VENGEANCE, is also in the works. The Wrap has reported that Dutch-Palestenian director Hany Abu Assad has signed on to tackle the English-language re-do of Chan-wook Park's 2002 original. Thankfully, Assad is just as comfortable with thematically controversial material as Lee; his Oscar-nominated 2005 film PARADISE NOW centers around the relationship between two Palestenian suicide bombers. His most recent film, the West Bank-set OMAR, recently won the Jury Prize at Cannes, which perhaps played a part in him landing this gig, admittedly a pretty solid entry into the world of mainstream American filmmaking (although Assad did direct a reportedly dismal DTV Jeffrey Dean Morgan/Mickey Rourke film called THE COURIER).
For those who haven't seen the film, MR. VENGEANCE (which you can currently watch for free on Hulu, and is only linked to LADY VENGEANCE in title and a vague revenge theme) centers around a Ryu, a deaf man whose activist/borderline-terrorist girlfriend gets him involved in a kidnapping scheme that, unsurprisingly, leads to wall-to-wall tragedy and death. It's not as streamlined or pulpy as OLDBOY, nor does it have the same level of deadpan black comedy as LADY VENGEANCE, but it's still a powerful, pitch-bleak drama-thriller. With a more conventional, Harald Zwart-y director behind the camera, I'd have grave worries about this one, but I've heard that PARADISE NOW is strikingly uncompromising in the way a Park adaptation would need to be, so this is good news.
It'll be really interesting who they get to play Ryu, his girlfriend, and the businessman whose daughter they kidnap.
-Vincent Zahedi
"Papa Vinyard"
vincentzahedi@gmail.com
Follow Me On Twitter