Papa Vinyard here, now here's a little somethin' for ya...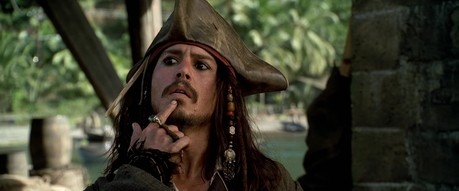 We knew something like this would happen. We had a STAR WARS, an AVENGERS, a JURASSIC PARK, an INDEPENDENCE DAY, a TERMINATOR, and even an ANT-MAN all coming out in Summer 2015. Something had to go, lest we get another crowded season where the blockbusters trample all over each other. So Disney, who owns three of those properties, has decided to shuffle their 4th PIRATES sequel out of its original release date of July 10th, 2015, into an as-yet-unannounced 2016 date.
Considering that there's literally billions of dollars on the line, it makes sense that they'd want to take some more time on this one. The last film killed it internationally, but audiences generally accepted that it was a lesser, creatively-bankrupt sequel, and directors Joachim Roenning and Espen Sandberg have their work cut out for them in winning back the hearts and minds of the disillusioned fans.
Box office-wise, I could see this becoming a non-event after STAR WARS, AVENGERS, and even ID4-2 debut in the weeks and months prior. Would another Jack Sparrow adventure really seem that novel after the returns of THOSE franchises? Whereas this way, Disney can truly position it as one of their central tentpoles for Summer '16 as opposed to yet another $200 million-budgeted extravaganza following up all the other mega-budgeted blockbusters that would have just recently come out.
Personally, I could give a rat's fart if this thing even gets made. I didn't particularly care for the first two PIRATES sequels, let alone the last barely-trying endeavor, and I don't get the feeling this is going to be a FAST FIVE best of the series situation. I'd love to be proved wrong though; if they surround Depp, Rush, and presumably Cruz with a strong enough story and supporting cast, it isn't impossible that we could get a fun swashbuckler on par with the first one. Not rushing it out is a good first step.
PIRATES OF THE CARIBBEAN: DEAD MEN TELL NO TALES will release sometime in 2016, probably in the summer.
-Vincent Zahedi
"Papa Vinyard"
vincentzahedi@gmail.com
Follow Me On Twitter