Cool News
First Trailer for Historical Drama THE RAILWAY MAN!
Hey guys! Horrorella here...
Lionsgate has premiered the U.K. trailer for Jonathan Teplitzky's (BURNING MAN) historical drama THE RAILWAY MAN. Based on a true story, the film tells the story of Eric Lomax (Colin Firth), a British officer who was interred in a Japanese labor camp during World War II. The experience has taken a toll on Lomax, and continues to haunt him decades later. The film is set in 1980, but seems to contain a great deal of flashback footage to the time spent in World War II.
Based on his best-selling memoir, The Railway Man tells the extraordinary and epic true story of Eric Lomax, a British Army officer who is tormented as a prisoner of war at a Japanese labour camp during World War II. Decades later, Lomax discovers that the Japanese interpreter he holds responsible for much of his treatment is still alive and sets out to confront him, and his haunting past. Directed by Jonathan Teplitzky, and starring Academy Award-winner Colin Firth, Jeremy Irvine, and Academy Award-winner Nicole Kidman, the film is a powerful tale of survival, love and redemption.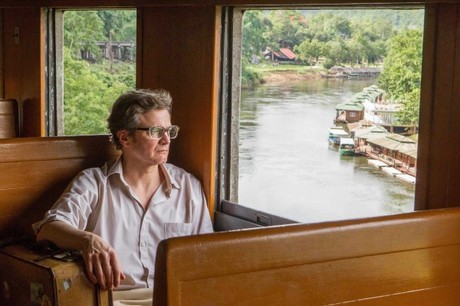 The film received mixed reviews at TIFF, but from the footage shown here, it looks like Firth gives a powerful performance in his portrayal of Lomax.
The film co-stars Nicole Kidman, Stellan Skarsgard, Jeremy Irving and Hiroyuki Sanada.