Papa Vinyard here, and I got somethin' for ya...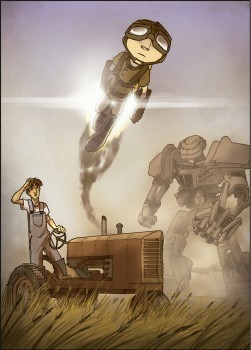 Last year, we thought that Joe Cornish's follow-up to ATTACK THE BLOCK would be an adaptation of the Royden Lepp novel RUST: VISITOR IN THE FIELD about a post-apocalyptic boy named Roman who befriends a jetpack-wearing kid named Jet Jones. Well, unfortunately Cornish is out, and The Wrap reports that Carlos Saldanha is in talks to replace him. This would be Saldanha's first live-action film, after co-directing ICE AGE and ROBOTS, and directing the next two ICE AGE films, as well as the surprise hit RIO.
While I'm disappointed that Cornish won't be turning this one into another badass, kid-centric action/sci-fi flick, I'm holding out hope for this one based solely on the premise. Saldanha's films for Dreamworks Animation has brought them boatloads of money, but I've never seen any of his work, and I'm hoping that the lukewarm reviews for those movies were cooler on the stories than the visuals. This seems like the kind of youth-oriented high-concept project that studios are clamoring for these days, and I'm optimistic and curious to see if Saldanha's got what it takes to make the property sing.
-Vincent Zahedi
"Papa Vinyard"
vincentzahedi@gmail.com
Follow Me On Twitter