Papa Vinyard here, and I got somethin' for ya...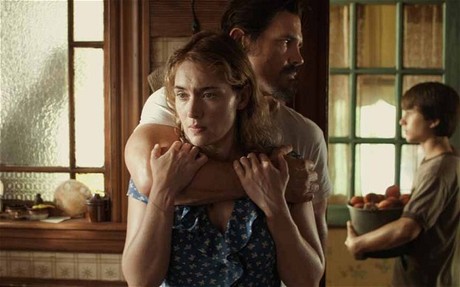 Yahoo has provided our first look at footage from Jason Reitman's upcoming LABOR DAY via this clip, and it's pretty intense. The snippet has Josh Brolin's escaped convict having a super-super-serial tete-a-tete with the beleaguered mom he's taken refuge with, played by Kate Winslet.
The film has gotten some pretty strong reviews out of Telluride and TIFF, and it's exciting to see a talent like Reitman's attempt something so different in tone from his previous work. The dynamic between Brolin and Winslet is nothing particularly original story-wise, but the two actors seem to be more than capable of bringing the necessary gravitas and tension to the table. I'm a fan of confined domestic thrillers like this, and considering the cast and crew, I can't imagine this will be anything but well-crafted and riveting.
LABOR DAY comes late this year, on December 25th in limited release and then wide on January 31st, 2014.
-Vincent Zahedi
"Papa Vinyard"
vincentzahedi@gmail.com
Follow Me On Twitter