Papa Vinyard here, and I got somethin' for ya...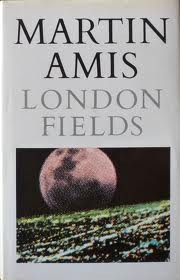 Deadline has reported that production has commenced on Matthew Cullen's directorial debut, an adaptation of the Martin Amis book London Fields. The film stars Amber Heard as Nicola Six, a psychic who knows she is going to be murdered and begins a quest to try and create a line of circumstances that will give the event some meaning. Billy Bob Thornton plays a dying novelist who starts following Nicola around, jotting down her story for publication. Jim Sturgess and Theo James play two hapless men that Nicola viciously manipulates using both her sexuality and her clairvoyant abilities.
Cullen's directing work has mostly been relegated to music videos for people like Black Eyed Peas, Jay-Z, Katy Perry, and Taylor Swift, but more intriguingly, he co-founded Mirada Studios with Guillermo del Toro, Guillermo Navarro, and Javier Jimenez. That del Toro connection runs a little deeper than that, for Cullen directed the impressive prologue for, you guessed it, AICN-favorite PACIFIC RIM. I like the supernatural-tinged, female-dominated premise, and the central cast he's rounded up; even though I'm not familiar with James' work, Heard, Sturgess, and (obviously) Thornton are underused talents whom I'd expect to have a blast with juicy material like this. I can't wait to see an Amber Heard femme fatale front and center for an entire film.
One aspect I am unsure about is the time period that the film will take place during. The novel was written in 1989 and takes place at the turn of the millennium. I wonder if Cullen is sticking with that 1999 backdrop, or is shooting us yet another 10 years into the future to inject a sci-fi element or two in there. Either way, it shouldn't prove too financially tasking to push the setting a decade in either direction, and both an updated STRANGE DAYS millenium or a projection of the near-future seem like interesting prospects.
LONDON FIELDS is currently shooting, and should pop up in theaters sometime next year or early 2015.
-Vincent Zahedi
"Papa Vinyard"
vincentzahedi@gmail.com
Follow Me On Twitter