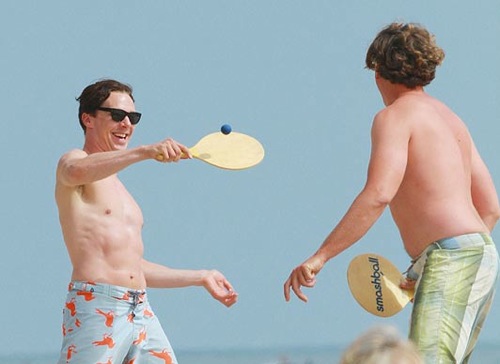 Beaks here...
At last week's Toronto International Film Festival premiere of Bill Condon's FIFTH ESTATE, Benedict Cumberbatch was asked directly about his rumored involvement in STAR WARS EPISODE VII. His denial was rather emphatic: "No offer has been made. That is that. And that is that."
And that, it appeared, was that. But that wasn't that at all. In fact, that was just the beginning of that, as The Telegraph's John Hiscock learned when he interviewed Cumberbatch the morning after the premiere. Here's what Cumberbatch had to say on the subject after getting a little bit of sleep:
"Of course I'd love to do Star Wars and work with JJ Abrams again because we had such a good time on Star Trek," he says. "But nobody has been cast and there are no offers out to anyone apart from the regulars who are returning. So that's that rumour quashed." Then he adds with a grin: "We'll have to wait and see."
Cumberbatch does have a pretty full dance card at the moment. He's about to begin shooting THE IMITATION GAME and will then move on to THE LOST CITY OF Z. If EPISODE VII is still on track to begin shooting in early 2014 (which I believe it is), this would seem to complicate things. And that playful "We'll have to wait and see" could just be an empty tease. But I think there's more to this. I've been told his STAR WARS part is significant (and villainous), but maybe it doesn't get significant until EPISODE VIII. I'm just guessing here, as I know nothing about the actual script, but I do have a great source on Cumberbatch being in the film, so I will choose to believe it until he is definitively out. Take that.