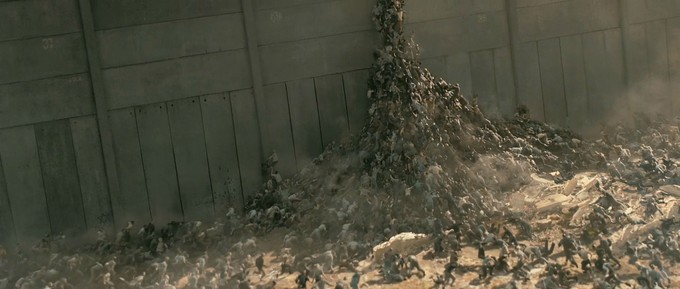 If I understand the chain of events correctly, the Brad Pitt produced/starring film was initially intended to be a three part mega-adventure - but those plans cooled a bit due to pre-release uncertainty about the first film's potential performance. Once the first movie opened and it hit big ($536 million globally - not counting its impending home video issuance) - sequel plans were re-visited. Which brings us to this Variety piece in which Pitt discusses the status of the follow-up:
"We're certainly talking about it, yes," he told Variety.
[EDIT]
"We have so many ideas on the table from the time we spent developing this thing and figuring out how the zombie worlds work,"
[EDIT]
"We have so many ideas and so much information–we think we have a lot of stuff to mine from,"
[EDIT]
"We're going to do our best and see what we get out of it. We gotta get the script right first to determine if we go further."
...said Pitt, whose comments can be seen via the embed below.
Meanwhile, WORLD WAR Z will arrive on home video in a few weeks and is already up for pre-order HERE. Sounds like the film's original (and far more interesting, for my money) ending will not be included on this release - although hope shines brightly that it will somehow finds its way to release at some point in the not too distant future. Details on said original ending can be found HERE.
-------------------
Glen Oliver
"Merrick"
- e-mail
- Twitter
- Google +