Papa Vinyard here, and I got somethin' for ya...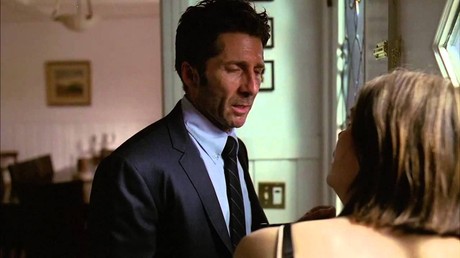 We have a trailer for the directorial debut of character actor Leland Orser (TAKEN, ALIEN: RESURRECTION, VERY BAD THINGS), a serious-looking L.A.-set drama entitled MORNING, based on his short film of the same name. The trailer's been around for a few weeks, but this is the first I'm seeing it, and it definitely made an impression on me. Perhaps expectedly, given how long he's been kicking around the industry, Orser rounded up a solid cast for his first go-around behind the camera, including Laura Linney, Kyle Chandler, Elliot Gould, Jason Ritter, Julie White (the TRANSFORMERS mom), and his wife, Jeanne Tripplehorn. The story revolves around Tripplehorn and Orser as a couple trying to get over the death of their child, and the various people who enter into their circle following the accident. I'm into the striking, haunting nature of the otherwise-typical images that we get in this trailer; this seems more visual and visceral than your typical domestic melodrama. If the film can match the manic energy of Orser's more memorable acting work, it should prove to be a captivating look at a marriage in crisis. We should hear more when it premieres at Toronto this week.
MORNING comes on September 27th.
-Vincent Zahedi
"Papa Vinyard"
vincentzahedi@gmail.com
Follow Me On Twitter