Papa Vinyard here, and I got somethin' for ya...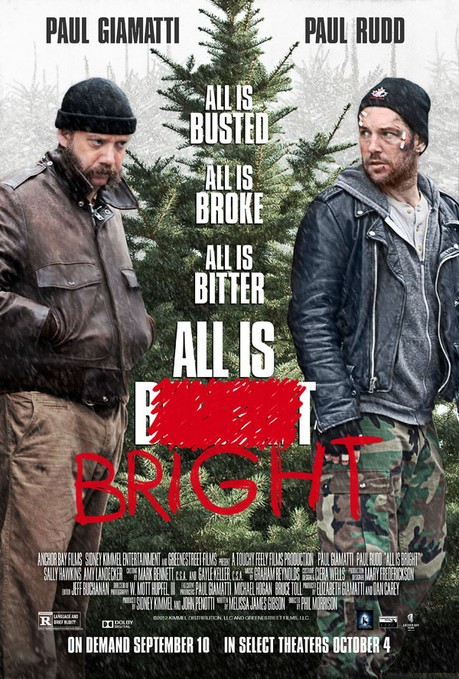 Earlier today, Yahoo premiered their trailer for JUNEBUG director Phil Morrison's latest work, ALL IS BRIGHT. The film stars Paul Giamatti as a Canadian ex-con who comes home to realize his money, his prospects, and his family have all evaporated, and Paul Rudd as his brother, who convinces him to trek down to NYC to sell Christmas trees during the holidays. The two spend most of the film bickering and belittling each other in and around their trailer, which is parked in the middle of Brooklyn.
I actually saw this film back in Tribeca, back when it was called ALMOST CHRISTMAS (review here), and I really adored it. It is significantly more melancholic and dark than the trailer suggests; this is way more like Rudd's PRINCE AVALANCHE than BAD SANTA. You get a taste of the two central performances, and barely a glance at Sally Hawkins' hilarious local, but all three are way more human and fully realized in the actual film. Giamatti is in that perfect SIDEWAYS sweet spot between dignified human tragedy and pathetic behavioral comedy, while Rudd is even more of the dorky straight guy than he was in AVALANCHE. The odd relationship between Giamatti and Hawkins' characters is subdued, lovely, and refreshingly schmaltz-free. If the trailer rubs you the wrong way, do not write this one off just yet; even the early scenes which are shown here are much funnier and more natural in the movie.
For fans of the two lead actors (or Sally Hawkins), I'd say this is a must-see, but the trailer doesn't scream that, even if it highlights a few of the films guffaw-worthy moments.
ALL IS BRIGHT shines on VOD on September 10th, and in theaters on October 4th.
-Vincent Zahedi
"Papa Vinyard"
vincentzahedi@gmail.com
Follow Me On Twitter