Papa Vinyard here, and I got somethin' for ya...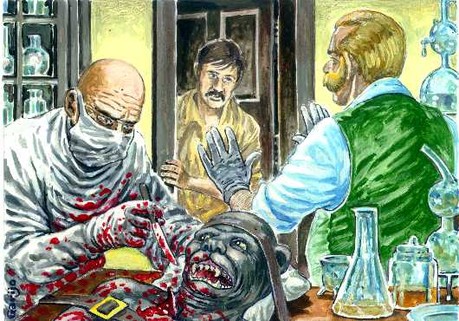 I gotta hand it to Warner Bros.; they got some nuts on 'em to wipe the dust off of this one. Only 17 years after Richard Stanley, John Frankenheimer, and Marlon Brando put together one of the more legendary disasters of the '90s, the studio is getting a script together to make yet another adaptation of H.G. Wells 117 year-old book THE ISLAND OF DR. MOREAU. The book, about a mad scientist who surrounds himself with hybrid man-like creatures of his own design, has been made into three feature films thus far, the first a Charles Laughton/Bela Lugosi frightfest in 1932 (titles ISLAND OF LOST SOULS), a 1977 version with Burt Lancaster as the doctor, and, of course, the infamous Brando/Val Kilmer debacle.
According to Deadline, Lee Shipman and Brian McGreevy are the writers who've been tasked with making this into a viable, contemporary property. Their big credit, to date, is as writer/producers on Eli Roth's HEMLOCK GROVE. It seems as shallow and obvious to hire the HEMLOCK GROVE guys to write a man-beast flick as it is to hire the STAR TREK director to do a STAR WARS movie, but what can you do. For all we know, their draft will be re-written to shit by the time this gets in front of cameras, and this development is just a way to get the wheels turning on getting this remake done in the near future.
My love to Val Kilmer, but for the sake of the production, I hope they keep him farrr away from this one.
Whatever happens, my vote is for Tony Cox to play Moreau's diminutive assistant. Then Friedberg/Seltzer will be stumped if they ever try and spoof this thing.
Who do you think could possibly follow the footsteps of Laughton, Lancaster, and Brando as Moreau?
-Vincent Zahedi
"Papa Vinyard"
vincentzahedi@gmail.com
Follow Me On Twitter