Papa Vinyard here, and I got somethin' for ya...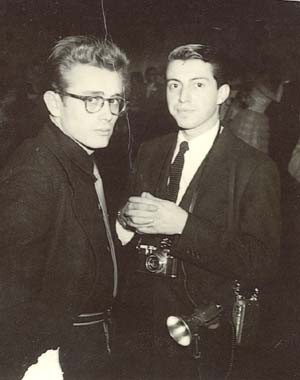 As Twitter has already noted, Dane DeHaan really seems to love following James Franco's footsteps. ScreenDaily.com has picked up the news that DeHaan and Robert Pattinson are joining Anton Corbijn's LIFE as James Dean and photographer Dennis Stock, respectively. The film is based on the real-life relationship that developed between Dean and Stock when the latter did a piece on the former for, you guessed it, LIFE magazine. Dean wasn't yet famous when Stock photographed him, and those pictures became a time capsule for the pre-EAST OF EDEN era, when Dean was just another upstart Hollywood hunk looking to break through.
In regards to Franco, this marks the second time DeHaan is inhabiting a character previously played by the actor, following Dane's upcoming turn as Harry Osborn in THE AMAZING SPIDER-MAN 2. In case you've forgotten, Franco got his post-FREAKS AND GEEKS dramatic career boosted by playing Dean in a TV biopic. I mean, I'm sure it's a coincidence, but if DeHaan wants to follow the blueprints of another eccentric actor's career, Franco's is not a bad one to crib. He's found a way to balance his mainstream, studio stuff with more artsy, personal fare, while even finding the time to establish himself as a creative entity beyond movies. DeHaan's particular talents will be difficult to shoehorn into Hollywood productions; note his forgettable appearance in last year's LINCOLN. More than anything, playing the enigmatic, troubled figure should be a great showcase for his talent at portraying angst and confused ambition.
As for our favorite sparkly vampire playing Stock, I'm pretty ambivalent. I'm still not wholly onboard the Pattinson train, but I don't think the dude's devoid of talent, and I have an inkling that one of these days, he's going to impress me with one of his post-TWILIGHT performances. Hopefully it'll be this one.
I'm a big fan of Corbijn's THE AMERICAN, and A MOST WANTED MAN looks pretty damn cool, so I'm hoping for the best on this one.
What do you think of this casting news? Does DeHaan have the chops (and the looks) to pull off a solid James Dean?
LIFE is aiming to shoot early next year, so I'd expect this film to come out during Oscar season 2014, at the earliest.
-Vincent Zahedi
"Papa Vinyard"
vincentzahedi@gmail.com
Follow Me On Twitter