Papa Vinyard here, and I got somethin' for ya...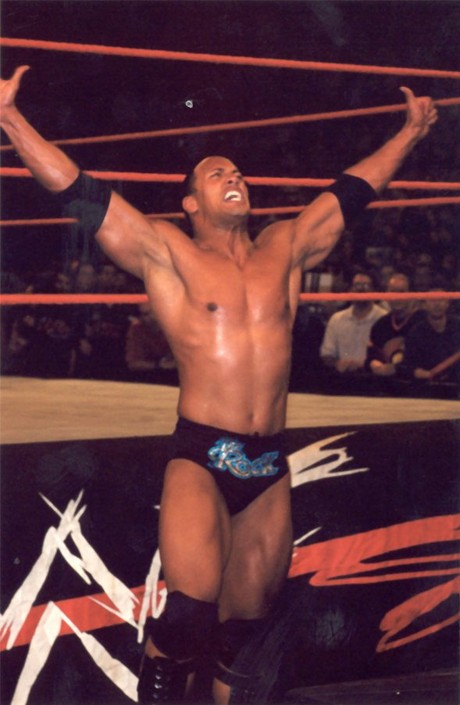 Remember that show PARKER LEWIS CAN'T LOSE? If I was going to pick a 20+ year-old TV show to update, I'd choose that, only I'd replace the PARKER LEWIS in the title with DWAYNE JOHNSON. The dude had about 20 weeks this year where he had a movie in the top 10 at the box office, he's cemented himself as "the franchise reinvigorator", he's playing goddamn HERCULES in the currently-shooting Brett Ratner movie, and after reprising his role as Hobbs in FAST & FURIOUS 7, he'll be updating Lee Majors' THE FALL GUY, according to The Hollywood Reporter. McG is in talks to direct the adaptation of the 1981-1986 series, which had Majors playing a stunt man who moonlighted as a professional bounty hunter. Apparently, an incarnation of this project with Martin Campbell and Nicolas Cage attached couldn't get off the ground, but this one is currently making the rounds at Toronto looking for financiers.
One thing they'll have to convince people of is whether mainstream American audiences (more specifically, fans of Johnson…Dwayne Johnson, that is) are more interested in a resuscitation of THE FALL GUY in comparison to, shall we say, THE LONE RANGER. Or, they can pretend like the writers just made this shit up themselves, and just put The Rock front and center like they did with the WITCH MOUNTAIN, JOURNEY TO THE CENTER OF THE EARTH, and G.I. JOE franchises.
I don't think it's a stretch to see Johnson as a stunt man, a bounty hunter, OR the lead of a McG action movie. Hopefully, the script gives him an opening to inject his trademark charisma into this thing, and make it something that transcends beyond yet another old TV show remake.
Shame that it couldn't be Richard Rush's THE STUNT MAN that The Rock felt like updating, but hey. This sounds good too
Does anyone else think it's really weird that Majors felt the need to introduce his fictional show by singing (himself) "I've been seen with Farrah" (referring to then-wife Farrah Fawcett)?
-Vincent Zahedi
"Papa Vinyard"
vincentzahedi@gmail.com
Follow Me On Twitter