Cool News
The Behind the Scenes Pic of the Day can't just go around killing people when the notion strikes it. It's just not feasible.
Ahoy, squirts! Quint here with today's Behind the Scenes Pic!
If you read this column regularly, you'll know that I like to tease the next day's picture. Yesterday I said today's pic was born to kill. Well, I wasn't being coy (okay, just a little bit). It really is Born To Kill!
Robert Wise's Born to Kill is one of the most celebrated film noirs and for good reason. Lawrence Tierney is the very definition of "palooka" in this thing. Directed by the late, great Robert Wise Born to Kill is a must watch. Super snappy, tonally crazy with an atypical plot. I won't go into it, just seek it out and you'll see what I mean.
The photo shows Wise directing Tierney and Claire Trevor. Thanks a ton to Decaying Hollywood Mansions for the image!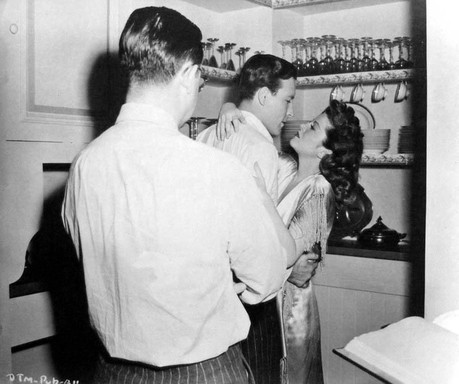 If you have a behind the scenes shot you'd like to submit to this column, you can email me at quint@aintitcool.com.
Leave Indio to tomorrow's behind the scenes pic.
-Quint
quint@aintitcool.com
Follow Me On Twitter
I've got a lot of maintenance work to do on the previous BTS articles, but you can visit two pages worth of images (beware of some broken links thanks to the last server shift): Click here for Page One and Click here for Page Two!