Ahoy, squirts! Quint here with today's Behind the Scenes Pic!
One of the joys of digging through the more obscure movies of the '50s, '60s and '70s is really discovering how great Anthony Perkins was. Don't get me wrong, you can appreciate his work through the Psycho movies and his more well known geek films like The Black Hole. He was a fantastic actor, no doubt, and I found myself turn from an appreciator of his work to a straight up fanboy as I've slowly picked off movies from his filmography.
Films like The Tin Star and The Matchmaker and Pretty Poison have floored me over the last decade and I still have a few more to go before I've exhausted Mr. Perkins' work.
The BTS shot I have for you today features Mr. Perkins in his most famous role, but in a rather unusual light. Sure, that's Norman Bates in front of his mama's house, but this is a happier Norman who found love in a Suddenly Seymour kind of pro-bigomy alternate reality involving ladders.
So, enjoy the lovely picture and if you feel the urge, go dig up some of his lesser known work. Perkins shied away from mainstream movies post his huge Psycho success and as a result did some fascinating counter-culture flicks well worth seeing. Thanks a ton to Decaying Hollywood Mansions for the image!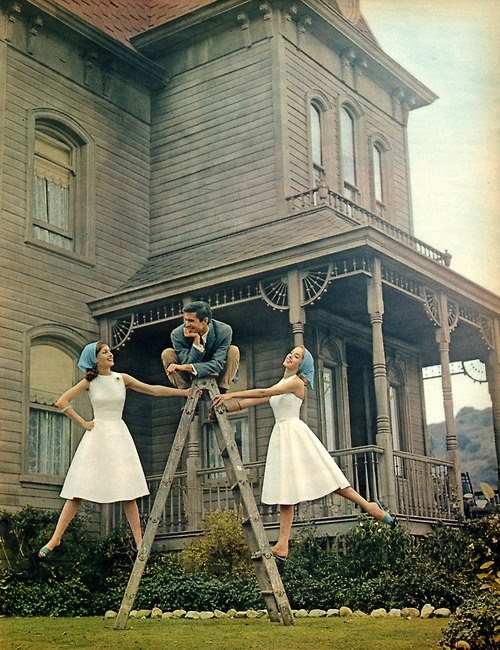 If you have a behind the scenes shot you'd like to submit to this column, you can email me at quint@aintitcool.com.
Tomorrow's behind the scenes is born to kill.
-Quint
quint@aintitcool.com
Follow Me On Twitter
I've got a lot of maintenance work to do on the previous BTS articles, but you can visit two pages worth of images (beware of some broken links thanks to the last server shift): Click here for Page One and Click here for Page Two!