Papa Vinyard here, and I got somethin' for ya...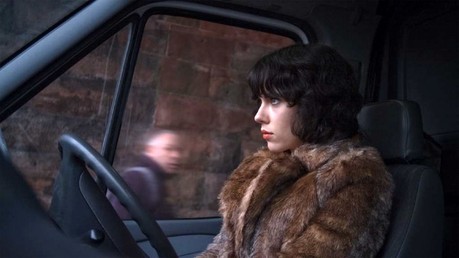 We have our first look at UNDER THE SKIN, SEXY BEAST/BIRTH director Jonathan Glazer's first film in almost 10 years, via this newly released trailer. It's a pretty nifty, eye-catching piece of advertising, highlighting some nightmarish Lynchian imagery while titillating you with gorgeous shots of Scotland and of Scarlett Johansson's partially-naked body (word has it she does full-frontal nudity in this one, if that sorta thing floats your boat). The film has gotten mixed reviews out of Telluride and Venice, and has yet to get stateside distribution, but the "style over substance" arguments I've been reading aren't dissuading me due to the quality of said style in this trailer.
The story (which is said to be pretty thin) has Johansson playing an alien who inhabits the body of a corpse and traverses through the Scottish countryside for a sampling of human experiences, including violence, death, and, you guessed it, sexy intercourse. Sounds like the arthouse version of SPECIES; how can you dismiss that, even if, like me, you don't froth at the mouth at the notion of Johansson getting down and dirty?
That being said, I will reiterate: Scarlett Johansson does FULL-FRONTAL NUDITY in this film. In case you were still on the fence.
My favorite part of SEXY BEAST was the pitter-patter of the (often profane) dialogue, which it seems that Glazer has shied away from here, but I like ambitious mood pieces like this, so I'll definitely be checking it out whenever a distributor realizes that there will always be a market for both weirdo sci-fi AND long sought-after hottie nudity (I know a bunch of you have seen POWDER BLUE, so I know I'm right).
UNDER THE SKIN premiered this past Sunday at Telluride, and is currently seeking domestic distribution.
-Vincent Zahedi
"Papa Vinyard"
vincentzahedi@gmail.com
Follow Me On Twitter