Originally posted at Arthouse Cowboy here. The following EXCLUSIVE VARIANT INTRO was added for this re-posting on AICN.
Bill Hunt at The Digital Bits deserves the enormous traffic spike I'm sure he's seen over the last day. I'll get to more about one of the true heroes in the realm of home video reporting in a bit.
I liked Star Trek Into Darkness. I interviewed Peter Weller for my podcast Screen Time. We barely talked about Trek, but we did discuss how he got "into the JJ business", so to speak. It was one of my favorite interviews I've ever done. STID was a good time at the movies for me, and I'm a tremendously hardcore Trek nerd. I hold my true canon near and dear, but I recognize that with time, all things change, and I did my best to see the what we DC Comics nerds consider the "Earth-2", "Elseworlds" version of Trek history. Overall, my personal relationship with STID was positive until this past week.
As I've done with many movies this year, I did my best to avoid all marketing materials, trailers, and news stories about it, both in advance and after first-run. I've done marketing and ad work for a living, and regardless of how good of a job is done, I usually hate modern marketing campaigns and feel like they're blunt force trauma and not much more.
The STID home video release coming on September 10th feels like little more than a marketing play, where appeasing retailer relationships is much higher on the priority list for Paramount Home Media than the interest of actually engaging the consumer.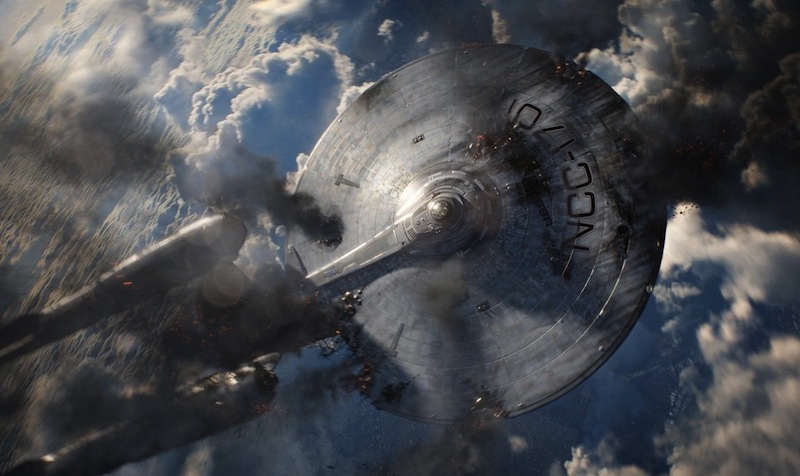 One of the most frank, direct sources of informed news and opinion in home video has (since 1997) been Bill Hunt's The Digital Bits. Bill wrote a piece yesterday that should serve as a litmus test of anyone you follow for home video reporting. If their reaction is different than Bill's, you're reading someone more interested in screener freebies and swag than the interests of the consumer. Go read it and come back.
The problem isn't that a bizarre array of retailer-appeasing variant editions is happening, it's that it's been in process for a while and this is the big one setting new precedents that we're all actually noticing.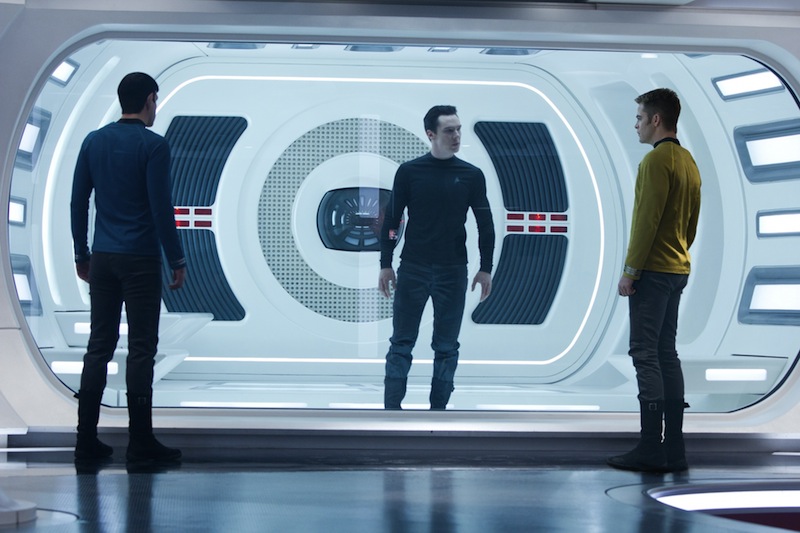 I've been quietly digging into retailer exclusive "variants" of home video titles for the last few weeks. I started taking notes when I noticed them growing both in frequency and the scope of their implications. Best Buy had an "Extended Action Cut" Blu-ray for G.I. Joe: Retaliation. Target has its own version of The Great Gatsby that includes an exclusive 20-minute featurette about the party scene. A year ago, Target had a version of Girls Season 1 that included an additional disc with exclusive content including commentary from the main cast on the pilot and a full SXSW panel Q&A. A few months ago, I got Best Buy's exclusive variant of The Hobbit: An Unexpected Journey , which only boasted just a fragment of a feature doc to be included on later editions. Well, it had that plus a lenticular cover...
These sorts of retailer exclusives aren't entirely new. Best Buy had their own versions of the Star Trek: The Next Generation DVDs back in the day, among other exclusives.
I'm all for incentivizing retailers to carry and promote, but this all reminds me far too much of a more expensive, less foreward-thinking version ofthe variant cover craze that hit comic books during the speculator craze of the 1990's. The thing I like most about that Wikipedia article is how it sets the massive financial success of the five different covers of the Jim Lee-drawn X-Men #1 alongside the anecdote that when Lee would go on to co-found Image Comics, his new series Gen13 had a first issue with thirteen variant covers. Comics boomed and busted on the back of the assumption their financial success could ride on not just the biggest collectors, but regular people in the hundreds of thousands or millions buying five copies of the same comic book, which were only different in their cover art , for a few dollars each.
At $1.50 cover price each, buying all five versions of X-Men #1 would only set you back around $8 including sales tax. At modern cover prices, you'd be looking at around $20. What Paramount in particular is setting as a precedent with one of their most prominent franchises is much more troubling.
The strange thing, to me, about Paramount's Best Buy "Extended Action Cut" of G.I. Joe: Retaliation is that the only version of the movie on the Blu-ray is the extended cut. The theatrical cut is not on there, and no one is under the illusion that it can't be due to space limitations. Seamless branching has been on discs since DVD. The included iTunes HD copy is, in fact, the theatrical cut, but even that seems odd. The week-of-release pricing for the Extended Action Cut version was $5 more than the regular Blu-ray...but didn't include the same core piece of content as the cheaper one that you could get anywhere. What is the value proposition for physical media when as a consumer, you're paying a premium for an incomplete package?
Surely they don't expect a super-hardcore G.I. Joe: Retaliation fan to spend $60 to get both...do they? Now that I think of it, there was a Best Buy-exclusive DVD of Anchorman: The Legend of Ron Burgundy that included the Wake Up, Ron Burgundy alternate feature and only the (massively inferior) Unrated Cut of Anchorman itself. It cost $30 on its own, which in that age of DVD was Criterion-level pricing for a much smaller package.
The way they've splayed out the extras across retailer exclusives of Star Trek Into Darkness , it looks like Paramount really does expect hardcore fans to buy more than one of these to get the equivalent of what was fully housed in just one edition of the 2009 JJ Abrams movie, which I reviewed four years ago, opening my review as follows:
[...]is one of the most sensibly-designed I've seen in terms of packaging and extras. They've wisely put the feature & commentary on one disc and all other supplemental materials on the second. One would assume they did this to preserve picture and audio quality, since the featurettes, deleted scenes, and gag reel on disc 2 add up to over three and a half hours of material.
I haven't gotten a review copy of STID yet (forgot to ask for one), but based on Bill's assessment at Digital Bits, combined with the listings of what features are exclusive to different editions, my pre-release expectations can easily be summed up as "how the mighty have fallen". I've condensedthe relevant differences and figured out the rough picture of what one would have to do to actually get all of the content one might care about (we can't know yet, since studios never send out the retailer exclusives for review).
Walmart
Exclusiveness: $40 Steelbook case plus Hot Wheels-produced figurine of the U.S.S. Vengeance
Best Buy
Exclusiveness: $20 ($3 cheaper than the regular edition, oddly) 2D-only that has 30 minutes of exclusive featurettes (focusing on alien design, one of the Enterprise engine room sets, "and more!") and a "giant letters against black" variant cover designed by a middle schooler
Target
Exclusiveness: $30 (3D is $35) edition that has 30 minutes not found on the Best Buy edition, a more colorful variant cover
Amazon
Exclusiveness: $80 3D edition that is the same regular 3D version, but with a phaser prop replica
iTunes
Exclusiveness: $20 "HD" package (a total of around 6GB at 1080p resolution) that is the Digital Copy otherwise included on all versions of the Blu-ray, which apparently includes the only way to watch a Picture-in-Picture-style integrated commentary as part of the iTunes Extras (more on this in a moment)
Would it have killed them to do a lenticular one, or holofoil, or a sketch cover...?
In all seriousness, to get all of the extras theoretically worth having, you'd have to buy both the Best Buy and Target editions ($50+tax minimum), and to watch with the commentary on, you can only view it on a computer, since iTunes Extras does not work on iPads, iPhones, or AppleTV. There's no way to know whether the exclusive featurettes on either the Target or Best Buy versions are more or less worth it respectively in advance, so whichever one you roll the dice on may be a bust.
Oh, and if you're a slave to Steelbook packaging (or Hot Wheels mini-replicas, I guess), you're forking over to Walmart for another $40.
In the event that price is better, or you're getting some extra stuff no one else is selling, that is an incentive. In the case of the first season of Girls, the price was lower than anyone, and it had the extra disc of content. Nice choices and well-executed! More of that, please!
If you're spending two or three times as much, and not all of the content is even housed on the discs, it makes you wonder whether you're being given an incentive to keep the money you would otherwise happily part with for the content you really do want. For years, studios have seen retailers as the customers, not the people (ideally) taking their product home. This is the best proof of that notion yet.
Look at the upside: they'll certainly package all of the fluff retailer extras in the eventual trilogy box set they'll put out in five years.
If you enjoyed this, you can find more of my writing at Arthouse Cowboy. The next episode of my podcast Screen Time features an interview with Mike and Denise Okuda, and it drops tomorrow (Friday). The next episode of Giant Size (my comics podcast with John Gholson from Movies.com) also drops tomorrow. Thanks for reading.

Yours,
"Monty Cristo"
Moisés Chiullan / "Monty Cristo"
@moiseschiu
email